Image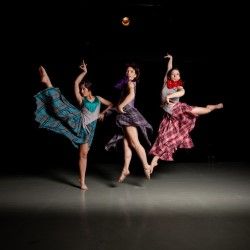 Production
Jen Wren (Artistic Director) Charlotte Matthiessen, Leticia Cabezudo Sánchez, Jen Wren (Dancer/Collaborators) Amy Geddes (Music Director) Keira Martin, Luisa Galan, Phil Sanger (Rehearsal Directors) Mark Baker (Lighting Design) Adam Wilks (Technical Management) Gwen Van Spijk (Producer) Morag Neil (PR Consultant)
Performers
Leticia Cabezudo Sánchez, Charlotte Mathiessen, Amy Geddes (Dancers)
This is performance about friendship, about culture and about change with three performers: Charlotte Matthiessen, Leticia Piruletas, David Connah and Amy Geddes, one Scottish and two Spanish. The show illustrates how these three came together, intrigued by the others' cultures, and their approach to dance, life and, well, everything. They are like jigsaw pieces from different sets but they discover that they all fit perfectly together. A quote in the show's programme crystallises this perfectly: "You never know how things are related until all the pieces come together". Their warmth and friendship create a core for the entire piece, and it is around this that the rest of the dance is now tightly wound.
The performances are relaxed, and the atmosphere is akin to attending a cèilidh, in fact, the audience is encouraged to laugh, clap and stamp their feet when the mood takes them. The dancing flashes between flamenco and Scottish traditional and wonderful hybrid is created somewhere in-between. It comes near to saccharine in some sections but is buoyed up by the clear friendship which envelopes this tightly bonded performing group.
Jen Wren delivers one of the most heartfelt renditions of Auld Lang Syne I have probably ever heard and I did feel a tear welling up in the corner of my eye. In these dark days of conflict and difference and divisive politics, it is a show like this which reminds us of the importance of friendship and kindness.
 Aug  4, 6-11, 13-18  4:00PM