Image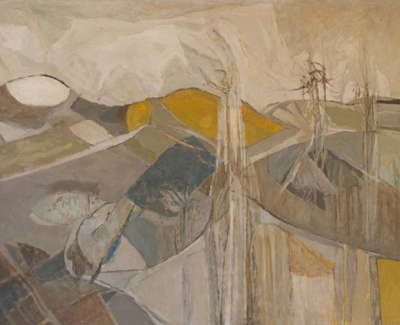 "My work is rooted in landscape and living birds and animals as they are part of it. I aim to show how creatures move and to express the visual delight they bring. I try to combine accuracy with artistry."   John Busby
"Silent Landscape" is the perfect, poetic title for this fine retrospective of work by John Busby (1928 – 2015).
John was brought up in Yorkshire where he developed an interest in nature, especially birds. He studied art at Leeds University and Edinburgh College of Art, graduating in 1955, to travel to France and Italy. He taught drawing and painting at the ECA for more than 30 years until retirement.
Nature in the raw was his perennial subject to paint, the wild open space of hills and dales, captured in all seasons, dramatic mood and shifting light. Over the years, his approach changed radically, moving to and fro, from scenic realism to experimental representation.
Around the elegant, spacious rooms at the Open Eye gallery, take a time – travel journey starting in the mid 1950s with the intricately crafted "Twelve Winded Sky." The palette of sombre muted tones of bare sketchy trees, bleak moorland with just a splash of mustard yellow under a dark sky reflects a touch of winter chill.
Moving on to 1962, "Northern Landscape" is depicted in an almost cubist pattern of oval and oblong shapes in a blend of grey, taupe and caramel. A decade later, "Ensign for Winter" is a pure abstract Rothko-esque layered block of bold blue, black and cream stripes.
Many rural scenes have a sky-high, birds-eye view across the countryside.  "Flight over Yellow Field" is a textured tapestry of geometric colours with a tiny kite blowing in the wind, while "Lothian Landscape" is a richly atmospheric panorama of green fields, sandy shore and blue sea.
"Last night a wind from Lammermoor came roaring up the glen,
With the tramp of trooping horses and the laugh of reckless men .."
From Walter Scott to W. H. Ogilvie, Lammermuir has inspired writers for their romantic, legendary tales.  Here is a remote glen of rolling hills captured by Busby first in 1985, a fragmented structure in a sweeping curve, to a more naturalistic composition in 2005, with its sun-tinted streak of blue sky. 
To complement this collection, "John Busby Remembered" features well curated work by fellow artists and associates at the ECA, such as an expressive abstract by Barbara Rae and the iconic figurative seascapes of John Bellany. 
Like David Attenborough of the art world, animals and birds was John Busby's lifelong passion, illustrating and writing books, a founding member of the Society of Wildlife Artists. On show are a few sketches and watercolours of owls and sparrows.
Take a stroll around the Open Eye to immerse yourself in these evocative, enriching landscapes: cool, calm and contemplative in their sense of place and time, moments of quiet beauty and stillness.  
Show times:
27 July to 2 September, 2019
Mon - Fri: 10am - 6pm; Sat: 10am-4pm
Free - non ticketed