Image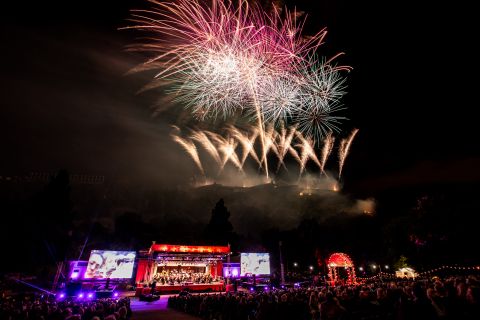 Company
Scottish Chamber Orchestra
Production
Bernstein, West Side story; Holst, The Planets: Mars, Saturn, Uranus, Venus, Jupiter

Performers
Clark Rundell (conductor), Nicky Spence (tenor), Lucy Crowe (soprano)
This year's Edinburgh International Festival finished with a concert in Princes Street Gardens - a concert in two parts. For fifteen minutes we heard excepts from Leonard Bernstein's West Side Story sung by tenor Nicky Spence and soprano Lucy Crowe with the Scottish Chamber Orchestra conducted by Clark Rundell. Familiar and enthralling, the crowd clearly loved it. Only days earlier the Festival was celebrating what would have been Leonard Bernstein's one hundredth birthday with a concert in the Usher Hall devoted to his work, and including solo violinist Nicola Benedetti and the Baltimore Symphony Orchestra under Marin Alsop - who had been taught by Bernstein.
After an interval of barely five minutes the Scottish Chamber Orchestra turned to Gustav Holst's The Planets, playing Mars, Saturn, Uranus, Venus and Jupiter - in synchrony with a massive fireworks display from the Castle. And that's what the vast audience in the Gardens had come for - carefully choosing to sit where trees didn't hide the view of the massive display. It is estimated that 250,000 people watched the fireworks from all around Edinburgh.
As a regular to the end-of-Festival concert, this year's was memorable as much for the good weather, a most pleasant dry clear evening, as for the music and fireworks. But perhaps the fireworks were just that little bit more exciting than ever. A great end to what has been a successful seventy-first Edinburgh International Festival.
Performance: Monday 27th August 2018 at 9.00pm.