Image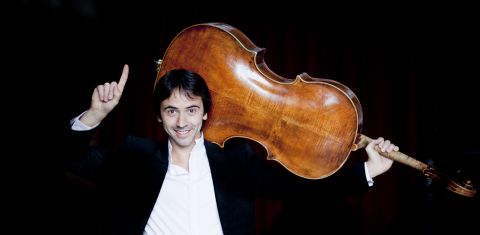 Performers
Jean-Guihen Queyras (cello) Alexander Melnikon (piano)
The soloists performing this morning at the Queen's Hall chamber recital were the French Canadian cellist Jean-Guhen Queyras and the Russian pianist Alexander Meinkov. They chose to begin the recital with Beethoven's Cello Sonata in D Major Op 102, a work they have performed before to great acclaim, and they indeed blend extremely well as a duo. Beethoven received mixed reviews when this cello sonata was first performed as, unlike most of his compositions, it dwells heavily on a fugue style – particularly in the final movement. In the middle movement however, the cello predominates and Queyras's sensitive playing and heart-felt interpretation perfectly enhanced the soulful, simple themes of which Beethoven was a master.
Like Beethoven, Chopin composed his Cello sonata in G minor Op 65 towards the end of his short life, in fact this cello sonata was the last public performance he ever gave. But he agonised over this particular composition commenting to his family: "Even a year later… sometimes I am satisfied with my cello sonata, sometimes not. I throw it aside and then take it up again." Chopin being a virtuoso pianist, the score requires the piano soloist to be one also and therefore the score is challenging, but Meinkov's playing was superb, lovely light touch which particularly came to the fore in the second movement with the cello when they wooed the audience with the exquisite pianissimo theme.
The recital concluded with Rachmaninov's Cello Sonata in G minor. For three years prior to writing this composition, he had suffered a major depression. His confidence had been shattered by adverse reviews of his first piano concerto. However, he recovered, felt inspired to compose again and wrote, amongst other works, this cello sonata. Like Chopin, he too was a virtuoso pianist and his distinctive chord structures are interspersed throughout this impressive work. Perhaps Meinkov, being Russian, felt impelled to add a particular impassioned interpretation of his countryman's composition because his playing was unsurpassable in many of the passages, and coupled with Queyras's profound expressive playing on the cello, they make an extremely impressive duo.