Image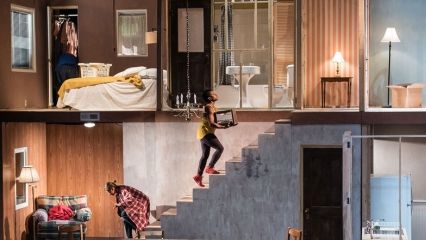 Production
Geoff Sobelle (creator), Steven Dufala (scenic designer), Lee Sunday Evans (director), Elvis Perkins (original songs composer), David Neumann (choreographer) Stefanie Sobelle (dramaturg), Christopher Kuhl (lighting designer), Brandon Wolcott (sound designer), Karen Young (costume designer), Steve Cuiffo (illusion designer), Victoria Ross (props designer).
Performers
Sophie Bortolussi, Josh Crouch, Jennifer Kidwell, Justin Rose, Geoff Sobelle, Ching Valdes-Aran (performers), Elvis Perkins (musician), Brass Gumbo (band).
Geoff Sobelle is making a house, and a home.
He starts on a bare stage with what appears to be DIY as performance art, stapling plastic sheeting to a frame to construct a precarious stud wall. Standing it upright and sliding it into place reveals, as if by magic, a bed and a self-supporting door.
Time seems to be a paper-thin partition and doors portals as he goes to bed only to pull back the sheets and transform into a boy, visited by his mother. Larger dust sheets drop as construction workers form in mere moments a wood framed house, the bones and ribs of a home.
There is a tango of kitchen fitting as the builders make way for residents. As one door closes it reopens to miraculously reveal a different person. Moments are fluid as people occupy the same space, seemingly unaware of each other. There is a carousel of characters in the bathroom, the curtain swishing to swap those showering. All the little shared mundane routines of life are laid bare as the inhabitants follow each other in magic mirroring.
There are quieter little moments too; a sunrise when the house ticks and creaks with its own mysterious life, evening cicadas with moths batting at the kitchen door. Interludes are provided by a white-suited troubadour singing folk rock songs with enigmatic lyrics such as ""Your first home will be your mother's bones" and ""Your only home is in and out of your body".
When the doorbell rings the party starts with guests meeting, drinking, dancing laughing and flirting. The house stages everything from christenings, birthdays, weddings to funerals. We share everyday drama, soap opera and landmark events.
This is a lively combination of movement, music and illusion. The eye-catching tricks of the early section make way for members of the public to take the stage to flesh out the guests. The effect is no less baffling, as it's difficult to see how they are being manipulated to perform and the walls between actors and audience crumble.
Impressive though it is, by bringing it to the traditional stage it lacks the intimacy of last year's The Object Lesson. There is a bit of an "always in the kitchen at parties" effect and it's difficult to catch the simultaneous action in all the corners. While the songs add a dreamlike quality, they are not clear enough to enhance the theme.
Playful, heart-warming and dazzling it re-affirms that there is no place like home.
Show Times: 22nd to 26th August 2018. Wednesday to Friday at 8pm.
Saturday at 3pm and 8pm. Sunday at 3pm.
Tickets: £17 to £35.