Image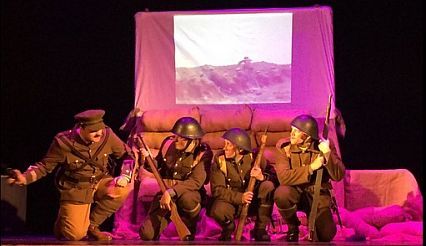 Company
Youth Connection Theatre Company
Production
David William Watson (writer), Linda Watson (director), Robert Simpson (sound design), Craig Grieveson (lighting design), Graham Duncan (digital projection).
Performers
John Williams (John), Stephen Lauder (Harry), Gary Hoyle ("Choppy"), Clare Musgrove (The Editor), Jake Marshall (The Lieutenant), Katie Barton (The Nurse).
In a sandbagged, water-filled and rat infested First World War trench three soldiers wait for the moment when they go over the top. They will find themselves in the hell of the first day of the Battle of The Somme.
They are part of the Lucky Durhams, a Pals battalion brought about by a recruitment campaign born of the notion that men would be more inclined to enlist if they could serve alongside friends and colleagues.
Together they are waiting on the front line under a barrage of artillery and small arms fire. Even in this situation John thinks it his duty to be cheery and worries that there might be no "Hun" left by the time the big guns run out of shells.
Back home the local Chester-Le-Street newspaper reports that a fund-raising event for the war is cancelled due to rain.
The Pals just want to get over and go home and, as the weather turns, the Big Push is back on. They are to advance, no turning back, no stopping for the wounded. Anyone showing cowardice will be shot.
As morning breaks one hundred thousand allied troops spread over a 14-mile front advance into the unknown of no-mans-land. The lieutenant can't go for operational reasons.
Harry is lucky only to be wounded and is able to testify to men not making it even out of the trenches, of whole battalions gone, 19,240 dead. The newspapers report the high praise of officers, all agree that they moved forward in order, no waverers – a magnificent display worthy of the traditions of the British Army.
While the history is well known, the production makes a good counterpoint of footage of the real conditions and the genteel, well-meaning but naive local news back home. Some scenes changes, which seem to have little impact, lose some of the momentum but performances and production values are strong.
It's a fitting testament in this centenary year of the armistice.
Show Times: 14th to 19th August 2018 at 12.00pm (Tues-Sat) and 2.25pm (Sun).
Tickets: £10 (£8). Families £24.
Suitability: 12+.