Image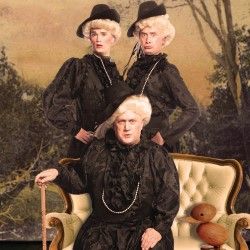 Production
Steven Dawson (writer), Oscar Wilde (Writer of 'The Importance of Being Earnest')
Performers
Steven Dawson (Sebastian), Liam O'Kane (Christian), Brent Thorpe(Winston)
Serving classical theatre with a fearlessly fabulous twist are Out Cast Theatre with The Importance of Being Earnest by Three F*cking Queens & a Duck. Sharp-tongued writer Steven Dawson brings his feisty three-hander back to the Edinburgh fringe following their sell out success in 2014.
What could possibly go wrong when three potty mouthed, limelight hungry queens tackle the arduous task of staging Wilde's classic, with no more than their own egos and a wooden duck? Simply calling them "artistic differences" gives way pretty swiftly, descending into an all out bitch fest, as the three players mince anything but their words.
Almost wordier than Wilde himself, Dawson's ability to construct ludacris profanities - utilising any and every possible creature and inanimate object as fodder for his witty slander - forms the catty backbone to this fastest-"f*ck*"-first production. Given the blink and you'll miss it pace of this piece it is both a shame and unsurprising that a few comedic gems are lost beneath the audience laughter and stumbled over lines.
Joining their writer/performer on stage in the tarty trio of leading ladies are Liam O'Kane's baby-faced but sailor-tongued Christian, and don't-dare-call-her-old Brent Thorpe's veteran bitch Winston.
Soiled with blasphemous slurs, this furious 50-minute fight for the spotlight is not for the dedicate eared thesps out there - but if you've an upcoming bitch fight to win, bring a notepad!
Runs 3 - 25 (Not 5,12,19)