Image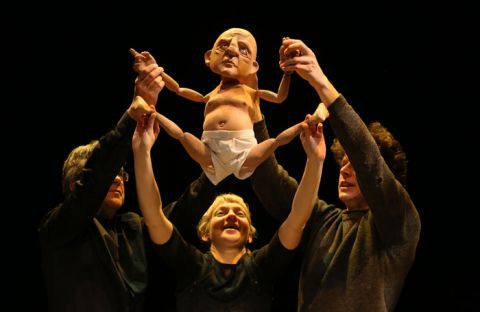 Production
Russell Dean (Director, Writer, Puppet Design & Maker), Telekom Uustani (Puppeteer), Mervin Millar (Dramaturg)
Performers
Nicholas Halliwell (Lead Puppeteer), Chand Martinez (Puppeteer) Teele Uustani (Puppeteer)
'If the 20th century was about ideology, the 21st is about identity.' Funded by the Wellcome Trust, Strangeface's The Hit see's Mikey the puppet spell out modern life to you, with particular focus on the impact of cognitive dissonance as theorised by Leon Festinger.
As if told by Breaking Bad's Mike Ehrmantraut himself, our American hitman Mikey regales his audience with tales of an assassination gone wrong and the final words of a femme fatale that changed his life forever. Skipping through his memories and into the neurotics of cognitive dissonance, Mikey attempts to open our minds to how confined our minds really are.
It is clear from the off that this is an intellectual piece of theatre weighted well with research and a writer who can spin a yarn. Teamed with the smooth sounds of Nicholas Halliwell's storytelling and the undeniably perfect puppetry from Halliwell, his co-puppeteers, this is an hour of Neuroscience lecturing that won't make you fall asleep.
That being said, the balance between teaching and storytelling could with a bit of attention. After Mikey finishes his monologue about the futility of our decisions, he takes a bow, then decides to explain what he's just been talking about for the best part of an hour. This feels unnecessary and belittling for the audience who - through Strangeface's wonderful storytelling skills - have already understood the point of the performance.
To see some exceptional puppetry, and enjoy the dulcet tones of a born-to-be storyteller, join Mikey for an hour of noiresque drama and a touch more than an introduction to Leon Festinger's theory.
Runs until 26 Aug