Image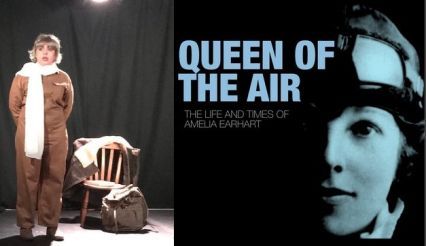 Company
Plush Tiger Productions
Production
Clara-Nel Haddon (writer), Justine Green (director).
It's 1937, a time when it was still possible to fall off the radar and simply disappear.
On the last leg of a round-the-world flight Amelia Earhart is approaching Howland Island in the Pacific. She calls the Coast Guard cutter to tell them that gas is running low and she has been unable to make radio contact. Then, silence.
Now "the girl in brown" stands before us and talks of how we are all stars, the sum of life's experiences and how no homeward journey through adversity is easy.
She takes us back on that trip from her childhood, playing rough and tumble tomboy games with her younger sister. Inspired by rides they have seen at the State Fair they create slides, and she rejoices in the exhilaration of the rushing air. As a Kansas girl the tornado from The Wizard of Oz whistles to her.
Having first seen an aircraft at a Fair, she soon realises that she has to fly, to escape and feel the freedom of endless flight. Initially seen as little more than a passenger or as luggage, she makes her mark when in 1932 she becomes the first woman to fly non-stop across the Atlantic. She is dubbed "Queen of the Air" and the French press compare her to Charles Lindberg, the only other person to have made the crossing; although it's a little too good to be true as they conclude with "… but can she bake cakes?".
She wants to show that women are as capable as men. "The air is the only place free of prejudice" she says, appropriating the words of pioneering black aviatrix, Bessie Colman.
As she plans her circumnavigation, she savours the strange names of stops en-route like Turkish Delight in her mouth. Why does she fly? You might as well ask why does she breathe?
The story is told more in the style of one of her lecture tours than from the cockpit of the aircraft. The sections are intersected by increasingly concerned recorded radio broadcasts, which include her own dialogue. These are either in blackout or with the actor left dimly lit and stranded with Earhart's noted "far-away look".
The play mentions but doesn't dive into the many intrigues and theories that surround her final fateful endeavour nor what the pressures of publicity brought.
A faithful biography of The Queen of the Air, but the drama has gone missing.
Show Times: 13th to 18th August 2018 at 3.05pm.
Tickets: £9 (£8).
Suitability: 12+.