Image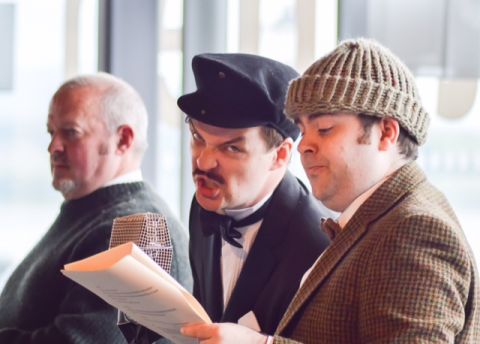 Company
No Nonsense Productions
Production
Kevin Jannetts (producer, writer, director)
Performers
Kevin Jannetts (Cyril Bell-Fortescue, Dan McPhail and other parts), Calum McVittie (Edward 'Teddy' Tunnock, Dougie, Sonny Jim, widow and other parts), Stewart Phillips (Sir John Montgomery-McMillan and Para Handy) and Valerie Barr (accordionist)
Neil Munro's belovèd characters, who crew the Clyde puffer The Vital Spark, are deep in the psyche of Scots of previous generations.
The sleekit Captain Peter McFarlane (aka Para Handy); Dougie the wary Mate; the crabbit yet romantic engineer Dan McPhail and melodeon playing Sunny Jim are known either through Munro's books or from the later TV adaptations. These four worthies, along with a few others, are brought to wonderful life by this cast of 3 and a series of hats, accompanied by some braw accordion playing from Valerie Barr.
It's 1955 and we're in a BBC recording studio when it was de rigeur for radio presenters to dress in black tie and dinner suit to broadcast. Enter pukka voiced Cyril Bell-Fortescue (Kevin Jannetts) in said attire complete with white silk scarf. His script tells him it's a Scottish piece and he 'can't do the place names'. He's joined by another plummy voiced double barrelled chum, Sir John Montgomery-McMillan (Stewart Phillips) before the trio is completed by an exuberant 'Teddy' Tunnock (Calum McVittie) who not only sounds very Scottish but is sporting a tweed jaiket. Help ma boab!
After instructions on some live foley sounds from the audience, we're 'on air' with Jannetts' character providing the narration of the shenanigans of Para Handy and his crew. It is now that the actors' skills come to the fore as they demonstrate their accomplished range of voices. Without missing a beat, Jannett shifts from RP narrator to gallus Glesga as engineer McPhail, while McVittie's animated face is a joy to watch as the bumbling actor and the coy baker's widow being courted by Phillips' well captured, suddenly clumsy, but ever sly Para Handy.
Jannet's script is witty and self- aware, marrying the couthie humour and the sensibilities of Munro's original text with some clever jokes of his own that manage to span the century and causing great hilarity in the audience that included several visually impaired people.
For the last six years over Yuletide, No Nonsense Productions has successfully toured with their radio play version of Frank Capra's classic tale It's a Wonderful Life. With their skills well-honed in this genre, the company provides a delightful 45 minutes of excellent Fringe entertainment. Para Handy: A Radio Play on Stage is a warm tribute to Munro's work where his creations are in safe and respectful hands. The fine rendition of We're no awa tae bide awa that plays the show out should augur well for its future.
Monday 13th – Sunday 19th August 2018 at 14.00