Image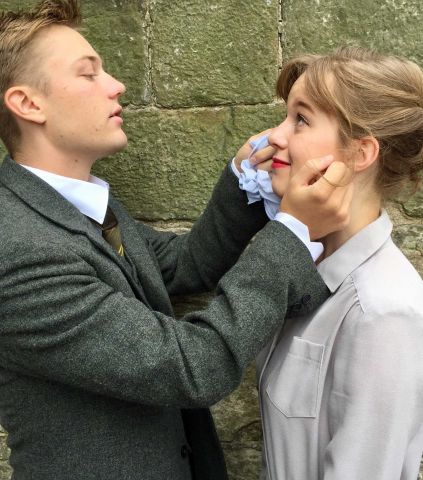 Production
Noel Coward (writer), James Arnott (director), Michael O'Connor (Technical manager)
Performers
Erin Mullins (Laura Jesson), Billy Emery (Dr Alec Harvey), Becky Banner (Myrtle), Sadie Soverall, (Beryl), Felix Rackow (Albery), Ethan Bailey-Smith (Stanley), Will Kirton (Fred), Ottie Clouston (Dolly Messiter), Ottie Clouston, Tetta Sanders, Robyn Dibden (Soldiers). Luke Bligh (Pianist)
The nostalgic, black and white classic film, Brief Encounter, (1945) starring Celia Johnson and Trevor Howard was recently named as the best romantic film of all time in a survey by Time Out London. The script was an adaptation of a one act stage play " Still Life" (1936) written by Noel Coward as the perfect sentimental drama for Gertrude Lawrence and himself, following success in such plays as "Private Lives".
The action takes place entirely in the Railway Refreshment Room at Milford Junction train station and the set is furnished with giant travel trunks and battered leather suitcases. With minimalist, imaginative design, these serve as tables and chairs, a counter laid with tea pots, cups, saucers and platter of cakes. The 1930s period is meticulously illustrated along with train whistles and the melodic score of Rachmaninov Piano Concerto no. 2, the film soundtrack.
Very much in command of the Tea Room is Myrtle Baggot, the manageress with brisk, bossy but friendly banter amidst a flurry of staff and passengers. The cast are dressed immaculately for the era - hairstyles, uniforms, fashionable frocks, tweed jackets and polished brogues. In her elegant dress and neat handbag, a young woman rushes in to ask for a glass of water to remove a piece of grit from her eye. Immediately, a smart, handsome man offers his help, "I am a doctor."
And so from this first brief encounter between Laura Jesson and Dr. Alec Harvey, the narrative of their blossoming friendship begins to unfold. Although both married with children, they arrange a weekly date, meeting to chat over a cup of tea at the station before their respective trains home. With musical interludes and sound effects, their innocent, platonic relationship gradually heads on a dangerous journey towards a passionate, adulterous love affair.
Centre stage, Erin Mullins is simply perfect as Laura, nervously frail and fragile but soon swept off her feet by this handsome stranger. Sharing memories of secret night-time trips to the beach as a child, her sweet smile expresses the hope, desire, dream to escape again now, away from her dull suburban life. The suave, smooth talking Alec is captured by Billy Emery with a cool, calm confidence: "Shall I see you again?" he asks pleadingly, pausing as a train hoots loudly, then repeats his request. "I'll be there," Laura whispers in response, guided by her carefree heart.
This love affair would be viewed as shameful and immoral at the time, with which Coward, as a closet homosexual, could empathise, viewing their relationship as poignantly sad and honest. It's also a study of sexual manners across the social classes: Myrtle shrugs off but also flattered by the amorous attentions of Albert, the station-master, while Beryl the waitress is wooed by her colleague, Stanley. These cameo roles as well as Laura's snobbish, gossiping friend, Dolly, are performed with crisp characterisation, mannerism, accents and humour.
The ghostly, silent figure of Fred, Laura's husband deters rather than adds any dramatic dimension and occasional scene changes speed ahead on the fast forward button; an enhanced use of the Rachmaninov score would hold the mood and illustrate the subtle passing of time.
The ETC is a group of 15 – 18 year old students from Emanuel School, London. Their stage presence and mature performances are most impressive with great credit due to James Arnott, their teacher and director.
Like "Brief Encounter," this intimate, bittersweet drama is a deliciously romantic weepie. Book your first class railway seat for a theatrical treat - Noel Coward himself would surely have been charmingly amused be this talented young company.
Show times
3- 11 August, @ 11.55 (not 5th)
Ticket prices: £9.00 (£8.00), £30.00 (Family)
Age guidance: 12 +