Image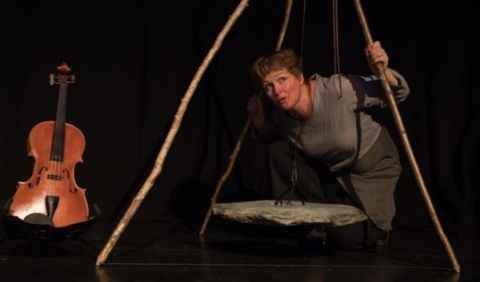 Company
Greengold Projects and Authentic Artist Collective
Production
Kath Burlinson (co-creator and director), Dave Gray (composer and music producer), Claire Lamond (animation), Maria McDonald (lighting design and production manager), David Francis (guitar, additional lyrics, dramaturgical support), Rachel Amey (BSL interpretation), Alison Brown (costume designer), Tim Vincent-Smith (pendulum designer), Ailie Robertson (bowed harp), Katie Welsh (DSM), Kate Taylor (producer), Marianne Halvage (communications), Julia Fayngruen (photographer/videographer), Heshani Sothiraj Eddleston (production photographs), www.wylliecat.co.uk (graphic design), O Really Media Solutions (PR)
Performers
Mairi Campbell (performer, composer, and original artwork)
"It actually translates from Scots to 'old times past,'" says Mairi Campbell on Auld Lang Syne, the beloved song that conjures images of fireworks and hand-holding at the close of a ceilidh. The Scottish musician, with direction and co-devising by Kath Burlinson, has created a stirring production here at the Scottish Storytelling Centre, one that tells the journey of this song played on New Years Eves around the world and the personal and cultural connections it has to Mairi and to Scotland.
There are, certainly, many skilled musicians here in August, but virtuosic Mairi Campbell transcends the role of performer and encompasses music itself; it just pours out of her like a love letter to the mysticism of traditional music via a quick vibrato and strong intonation. Her voice is like no other. To audience delight, she performs her magical rendition of Auld Lang Syne, featured in a memorable scene in the movie Sex and the City, and it brings more than a few tears to the eye.
Mairi is an incredible storyteller. WIth the way she paints a picture of the Scottish countryside or describes a childhood memory of a cosy family party on the night of Hogmanay you can just imagine the settings all around her. Her own music, collaborations with David Gray and David Francis, mixed with the Burns favourite, are woven throughout the piece, and they are beautiful. There's even a gentle moment where Mairi becomes choir director to the audience; it's charming and it brings the performance even closer to your heart. So likeable, Mairi is unexpectedly quite funny and has a command of the energy in the room.
Auld Lang Syne is an enthralling tribute to old friends and old tunes, to "time, distance and traditions," as dynamic Campbell would say. Through stories, voice and viola, this is a chance to see and hear two Scottish treasures: the steadfast, globally-beloved Auld Lang Syne and Mairi Campbell herself. Even in the clamour of a thousand flyers and thousands of productions, this is one Fringe show that I have to see again before the 2018 Festival closes.
Aug 14-27 (not 20)
16:30