Image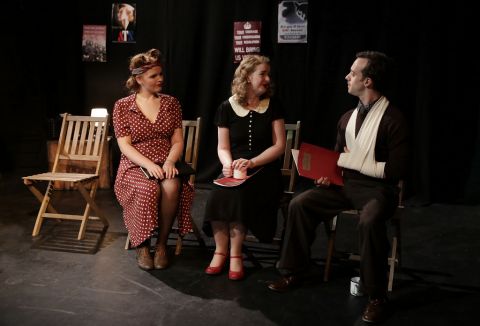 Company
Time and Again Theatre Company
Production
Laura Crow (Writer) Jacqueline Wheble (Director) Paul Wilson (Light and Sound)
Performers
Tim Cooper, Catherine Cowdrey, Laura Crow, Fiona Primrose, Jacob Taylor
Henry V in 1941 – a very appropriate fit, you may think; and you'd be right. Time and Again Theatre Company delight with a new play that weaves Shakespeare's classic into the fabric of WWII England.
Greyhounds, written by Laura Crow who also plays Katherine, uses Shakespeare's play as a springboard into village life during the first part of the second world war. Five budding thespians are attempting to take on all fifty two roles in a production of Henry V in an attempt to raise morale and funds for a new spitfire. As rehearsals progress, we learn more about the men and women involved; about their village, about their individual lives and about how much each of them has been affected by the war.
The play itself is pretty much perfect. Crow strikes a balance of realism and theatricality and with the help of her very capable cast and shows both the quaintness of rural England and the overwhelming destructive nature of the war just off their green and pleasant horizons. It is a clever move to perform Henry V; there are strong parallels to be found within the speeches that punctuate the play and it focuses the action on the happy few.
But where Shakespeare's play is a war play, this is a domestic one, and therein lies its quality. There is bravery and heroism in England while the boys are off to fight and there is much still resting on the shoulders of these villagers. The cast nail it, and are as genuine as the people they play.
Greyhounds is utterly charming and warm hearted. God for Harry, England and St George!
Until 18th (not 12th)