Image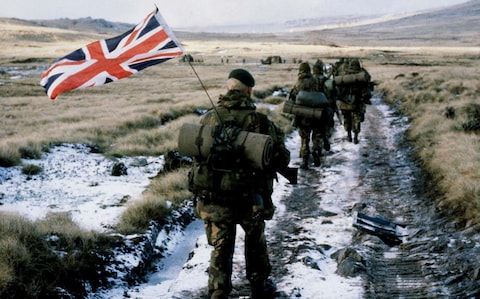 Company
Tasty Monster Productions
Production
Heather Bagnall (writer, co-director), Luke Tudball (producer, co-director)
Performers
Heather Bagnall (Helen, Private Patrick Fitsgerald, Commanding Officer), Luke Tudball (Gideon)
On 2 April 1982, Argentina invaded the Falklands, the remote islands in the South Atlantic, inhabited then by 1,800 people, descended from the pioneering Scottish settlers brought there to raise sheep. On screen, news footage shows the speech by Prime Minister, Margaret Thatcher declaring War and that a task force was being sent to reclaim the sovereignty of this British Territory.
On an empty stage with just a trunk and a couple of crates, Gideon, a slightly crippled middle aged Farmer with a sturdy crook in hand, is tending to his flock of sheep when he meets a young soldier digging a trench, Private Patrick Fitzgerald from Belfast. Dressed in cream jeans, donkey jacket and a beanie hat rather than Commando uniform, Fitz chats about his family background and travels while Gideon introduces his sheep, all with names, more like his children than animals.
Scene by scene, we observe the growing friendship between soldier and farmer who, like a father figure, grows concerned about the boy's safety. They discuss their mutual understanding of the futility of war for political power and religious division - Fitz recalls the Troubles in Northern Ireland while Gideon suffered the horrors of the London Blitz.
From field to farmhouse kitchen where his wife Helen is nervous about military attack suggesting they paint "Civilian" on the roof. She is a native Falklander, (but her accent sounds American), played by the same actress as Fitz with a quick removal of jacket and hat. She expresses her growing horror of the invasion which is being fought by "British babies and Argentine babies," the soldiers mostly under 25 years old. What is the need to protect 1,800 people, a land of sheep and penguins, "there's nothing here!"
They express pride in the Union Jack, the British, and "our" Prime Minister, but there are constant inaccurate references to the fact that "We have to liberate the islands for England". The actual, terrifying reality of war is illustrated through sound effects and film footage - land mines, the sinking of the General Belgrano and HMS Sheffield, the brutal, bloody battle at Goose Green leading to final victory.
The premise of this quietly intimate and insightful play is a clever concept to reflect the personal experience of the war from different perspectives, two islanders and a Royal Marine. An essential element of theatrical performance is the willing suspension of disbelief by the audience. Unfortunately, the portrayal of Private Patrick Fizgerald by Heather Bagnall fails to convince throughout to offer a truthful characterisation for us to empathise with this brave, patriotic yet vulnerable, young Irish lad.
Show Times:
13 – 25 August @ 13.50
Ticket Prices: £10 (£8), £12 (£10)
Age Guidance: 12+