Image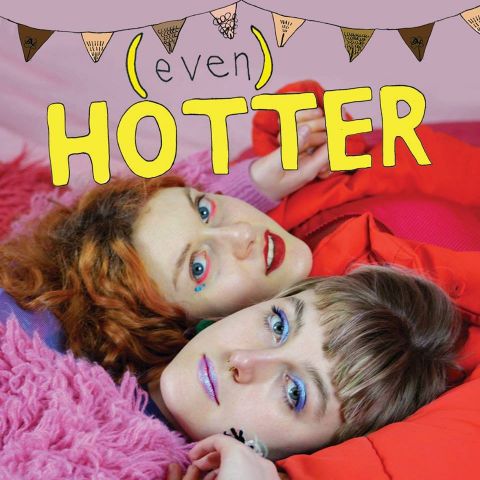 Production
Mary Higgins (writer), Ell Potter (writer), Transgress Productions
Performers
Mary Higgins and Ell Potter
Back again from a 2017 Fringe run as Hotter, this year's (even) Hotter is…can you guess it? Even Hotter. Part verbatim theatre, character work, physical theatre, dance, and autobiographical storytelling, this show is an exaltation of your body…no matter what your body!
Although this show is about 50% the same as last year's piece, it's a welcome revisit to the feelings and topics explored: body confidence, body insecurity, masturbation, periods, menopause, and more delightfully taboo subjects (look out for genital bunting). A surprising evolution to this year's piece is the inclusion of the personal backstory of the two creators, Ell Potter and Mary Higgins: their fierce friendship and romantic history. It all fits and makes this piece even more intimate in some ways, which helps to ease the slight segregation from the audience that happens as a result of the venue layout at Bedlam in comparison to last year's St. Augustine's layout for the run.
Ell Potter, who, in particular, has a natural comedic cadence, speaks in earnest to the audience about her own insecurities, "You will always think about the chins, you will never think about the smile." We find that (even) Hotter is as liberating for the performers as it is for the audience. Mary Higgins is equally likeable, equally comfortable in her skin and in sharing the innermost thoughts that make us connect with the Hotter duo so strongly. Purposeful and exact in their design of this piece, Higgins and Potter (Hotter) offer no throwaway moments throughout their inventive ways of delivering monologue, incorporating multimedia and costume (hello, subtle vulva outfits) and relaying the recorded answers women (ages preteen to 97) had to offer when asked how they felt about their own bodies.
Vulnerable, charming and electric, this is a little hour of pure love of body, ending, fittingly, in a big dance party with the audience. If all girls, nay, if all people, came to this show, so much more beauty would be seen and celebrated in this world. Dear Ell, Dear Mary, thank you for bringing (even) Hotter back.
Aug 3-27 (not 14 or 21)