Image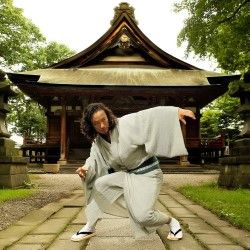 Production
Yoshitaka Suzuki (Choreographer)
Performers
Yoshitaka Suzuki (Dancer)
Yoshitaka Suzuki was Born in Akita, Japan in 1981 and has danced and trained all over the world. His list of performances is impressive so I was looking forward to this performance. I was not disappointed. It was a first for me visiting the Forest Theatre at the Greenside Venue on Infirmary Street and the more I visit the Greenside group of venues the more I like.
This is a blend of both live performance and video footage taken in Japan which explains and gives context to the dances performed. The connection between Yoshitaka's homeland and his work is clearly strong and refreshing to watch. His interpretation of Japanese traditions and folk tales into a modern context gives it a vibrancy and a renewing energy.
He has delved back into Japan's history and worked with communities and local dancers to absorb and understand their approach and then blend it with his own creativity – it makes for a compelling show. We can only be greatful to this shows sponsors who had the foresite to see the integrity and power of this work.
There is a wide breadth or emotion in his work a full spectrum of engagement. Sometimes it is confronting and laden with pain and sorrow and then this can turn into a kind of solitude and quiet resolution. He's a good dancer to watch, full of innovation, power, speed and agility. His performances come alive with energy and movement in a way not many dancers seem to be able to achieve.
The final dance is heavily charged with emotion; an interpretation of a painting 'Akita no Gyoji' (The Events of Akita) painted by Tsuguharu Foujita in 1937. Starting in gloom and with a slowly growing pace and crescendo it is a great piece to end on, with the dancer pouring his heart and soul out across the stage. This is definitely one of the best pieces of dance to appear on the Fringe this year.
21-25 August, 12:40