Image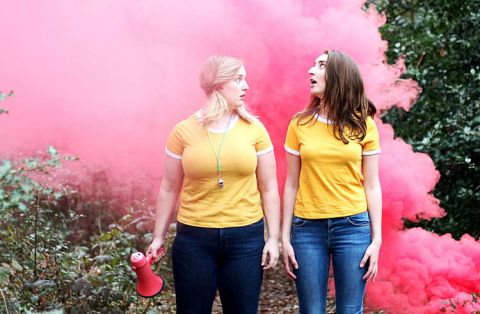 Company
Box. Theatre Company
Production
Josh Bowles (Sound Design/Stage Manager)
Performers
Emilia Stawicki (Emily), Betty Jane Walsh (Betsy)
Welcomed to Camp Be Yourself with an over-excited "yass!" and ear to ear grins, Box. Theatre Company are here to help Edinburgh Fringe goers be the best campers they can be.
Leading this all American summer camp on the east coast are childhood BFFs Betsy (Betty Jane Walsh) and Emily (Emilia Stawicki), who've returned this year as camp leaders. It is their mission to give their group of all female campers the best summer of their lives, culminating in the all important talent contest on the final evening. With both fond and better-left-forgotten memories rising the the surface, things start to run a little ary with our camp coordinators as they begin to realise that they are now the responsible grown-ups.
Painted as the extreme opposites of each other, emotionally repressed an agreeable Emily does her damndest to keep the self absorbed, abandoned child star Betsy under control until their destructive opposing personalities collide. As their chirpy exteriors begin to unravel the play becomes more and more absurdist and abstract.
The performances of this production elevate what could have been a simplistic plot to a much more complex piece. Walsh and Stawicki make a great comedy duo, with highlights of the piece falling in their dance routines and to-and-fro banter. A pleasure to watch at work.
Although the production descends into a bit of a slap dash ending, it has a very funny build-up with a biting message, strong enough to put the fear into any soon-to-be adult, or grown-up in denial.
Runs until 26 Aug