Image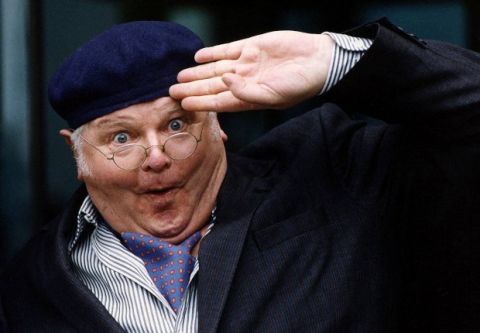 Production
Fringe Management, LLC
This affectionate and engaging one-man show tells the story of the famous funny man, following his career from its earliest failures to global success and beyond.
The later years of the story – when The Benny Hill Show might draw a TV audience of twenty million – are well-known, but the details of his early struggles provide some interesting insights. It was the chronic stage fright and hostile audiences that Hill had experienced in the music halls which led him to TV; he could perform to millions of people without having to see any one of them.
The show celebrates some of the familiar comic songs – like Garden of Love - with their strained wordplay and saucy innuendo. Ernie is re-written to great effect with Benny as the new hero. There are tiny but satisfying cameos of other comedians – Frankie Howerd, Eric Morecambe, Syd James, Bob Monkhouse; Liam Tobin is quite a talented impressionist. Some of Benny's best loved characters like Fred Scuttle and Chow Mein also make instantly recognisable, if brief, appearances. And the cheeky chappie character who sings the songs eyes the audience with a knowing smirk.
But where is Benny? Where is "The Lad Himself"? This perhaps is the intriguing conundrum at the heart of the piece. Tobin wears a Benny Hill wig and tells the story in the first-person, but does he actually sound like him? And how would he sound if he did?
We are reminded that, throughout his long career, Hill consistently deflected any questions about his private life with jokey replies. He was an intensely private man who loved to be the centre of attention, but only behind a comedy mask. He managed to ensure that we never got to know him.
Benny Hill remains hugely popular in many countries, though his style of comedy has long-since fallen out of favour here. He was once memorably described as "the last man standing on the end of Britain's crumbling metaphorical pier." Even so, his contribution to the development of British comedy, sympatheically chronicled in Benny, should not be overlooked.
August 1-27 (Not 13) 14:45