Image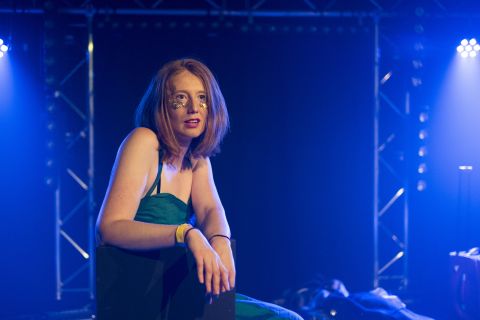 Company
Hack Theatre and Norwich Arts Theatre
Production
Michelle Sewell (writer), David Gilbert (director),
Performers
Michelle Sewell (Alice)
Alice is hoping for a happy ending. Raised on a steady diet of Disney, this Australian expat-hopeful has realised that her veritable carriage will soon turn back into a pumpkin...her visa has expired and she is en route to the airport with the two years of her UK life packed into a suitcase. Following the lead of the Snow Whites and Ariels of those beloved yet problematic films, she waits for her Prince to show up at the tube station on one knee to save her with a marriage that not only grants her that happily ever, but also indefinite leave to remain in the UK. Does he show up? That's not really what this show is about.
Semi-autobiographical Dysney Disfunction, written and performed by Malcolm Bradbury Award winner Michelle Sewell, was advertised as a fun and frenetic exploration of love, immigration policy, and childhood expectations in an adult world. It definitely is all of that, but it is also far darker than expected. There are two Alices that fight for ownership of this story: the on-stage Alice, dressed like a mix between Giselle from Enchanted and any 20-something festival-goer complete with flower crown and glitter, and the Alice projected intermittently on video cutaways, recorded from therapy sessions back in Sydney. Both fast-talk their way through a myriad of stories about their British boyfriend (whom they call "Prince") and the childhood experiences that led to their relationship behaviours and expectations as an adult.
What you find in the end is a story of how you reclaim yourself as an adult after you've been traumatised as a child, culminating with revelations of childhood sexual abuse and realisations that you can't be saved by a Prince or a visa- you have to save yourself. While Dysney Disfunction is, in fact, a "heart-stopper," as Sewell states, the delivery is a bit clunky at times (this is still in previews), especially as the video components serve as mostly confusing until the final moments. This a show with many messages, and it's not exactly clear as to why the darker elements are left out of the advertising. What is clear, is that Michelle Sewell has some weighty, yet valuable, things to say about borders, dreams and love.
2-25 Aug (not 14)
15:40