Image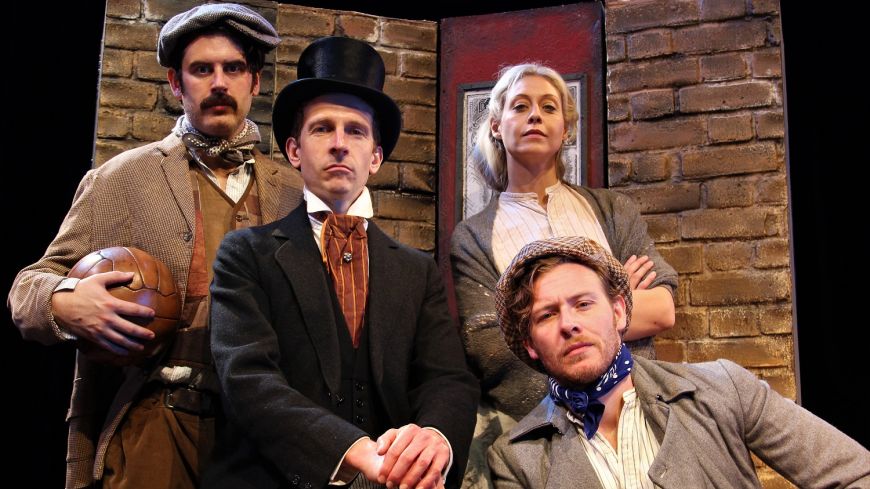 Company
The Long Lane Theatre Company
Production
Eve & Andrew Pearson-Wright (writers), Natalie-Anne Downs (director), Justin Williams (set design), Anna Sbokou (lighting design), Hannah Grainger Gibbs (movement assistant), Ben Winter (sound)
Performers
Eve Pearson-Wright (Lucy Kirkham), Neil Andrew (Robert 'Bobby' Kirkham), Tim Barrow (James Ashton, Lord Kinnaird), Jimmy Riani-Carter (Billy Walsh)
Football is generally now regarded as a sport of the working class, but in its early days in the 19th century the opposite was true. Back then it was a game for the privileged chaps who attended public schools like Harrow and Eton; a game for gentlemen and the upper classes (and we all know these are not synonymous). What passed for football in the mill towns of Lancashire could be a chaos of 60 odd men roughly lobbing a ball around with just a fence as goal.
The Giant Killers is a wonderful dramatisation of the true story of a group of mill workers in Lancashire who were joined by two talented Glaswegians (things must have been different in Scotland!) so that Darwen could take on mighty The Old Etonians in a F.A. Cup tie in London's Kennington Park. A real -life David and Goliath set up!
Opening with tableau like figures in a museum backed by industrial sounds, the unlikely combination of a political radical; a lippy, spirited young widow; a naïve pragmatist and the son of a millowner, all with the common love of football, burst in to life to the sound a steam train's whistle.
The characters' words are delivered mainly by direct narration in this tragi comedy that deals with socio political issues of the time while keeping its eye on the ball, as it were. The hub of the story is a game played by a team where the odds are strongly stacked against them. It is the 'ruled vs rulers' and the latter are not above bending Association Football rules to suit themselves.
The re-enactment of the games in the tiny space that is the stage is transporting, edge of the seat stuff even for someone who doesn't know the offside rule! The brilliantly simple cuboid set designed by Justin Williams birls to a brick wall, a football crowd or the inside of a house like the twist of a Rubik's cube.
The Giant Killers has a fantastic script with tremendous all round performances from the entire troupe. It is high quality theatre without a high budget.
Long Lane Theatre Company has made a Fringe début worthy of a Hampden roar!
5-28 August at 14:30 age recommend 14+