Image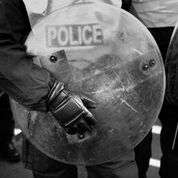 Company
Utter, in association with The Byre Theatre, St Andrews
Production
Adam McNamara (writer) Joe Douglas (director), Natasha Jenkins (designer), Kate Bonney (lighting designer), Kevin Murray (sound designer)
Performers
Adam McNamara (Chris), Andy Clark (Davey), Jamie Marie Leary (Rachel), Laurie Scott (Marty), Kirtsin McLean (ZS), Ron Donachie (Steve) Jack Lowden, Stuart Martin, Lisa McGrillis, Daniel Portman, Richard Rankin and Emily Winter (additional voices)
Cop dramas have come a long way. The days of the avuncular desk sergeant who knows all his customers and the sight of the feet of the male and female officers pounding the beat in time are gone. Grittier stuff has taken their place.
Adam McNamara, a former police officer turned actor and writer, takes the genre to another level with this new immersive work Stand By where we catch a glimpse of the human beings behind the shields and stab proof vests.
Entering the venue, the audience is issued with single-earpiece headphones through which a barrage of weird and not so wonderful messages and double affirmatives come through giving a flavour of the range of relentless calls to the police. Through these, the audience then shares the messages that come to the four members of Police Scotland as they sit in a riot van on alert to step in to a potentially violent domestic callout in a Dundee housing estate.
There's Davey (Andy Clark) the hard, Dundonian who has his eye on the chance of overtime at every turn; there's Marty (Laurie Scott) the lippy wee Londoner who got a super quick transfer for unknown reasons; there's Rachel (Jamie Marie Leary) the one female in this team, who needs cloth ears to deal with the course male 'banter' and whose private life remains her own and there's Chris (Adam McNamara) a stressed out married man with a child who has his anxious wife constantly calling him on his mobile, each caught well by this cast.
Joe Douglas directs this insider take on police life that's full of crude, rude and witty banter with style against a stark and neon lit set from Natasha Jenkins that captures the claustrophobic scene brilliantly well. Rules are broken with impunity behind closed doors by these characters and when boredom sets in thoughts of cakes, porn and guessing games, though not necessarily in that order, start to surface to pass the time.
McNamara's text is believable but it's not for the faint hearted. Though set in Dundee, the intimacy generated by such close and dangerous work he reflects is reminiscent of the French cop drama Les Engrenages where the consequences of split second decisions have to be faced and dealt with against the backdrop of personal dramas.
Quality polis!
This is part of the Made in Scotland Showcase 2017 and part of the inaugural [email protected] Fringe
11 - 26 August 2017 (not 14 or 21), 18.45 age recommend 16+