Image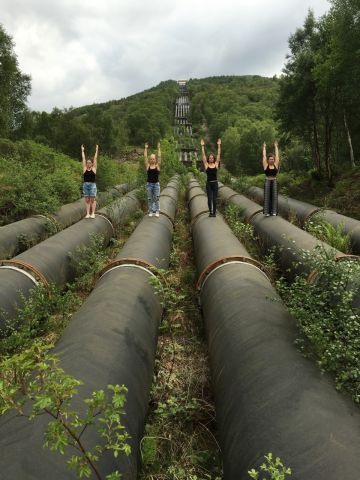 Production
Creator/Director; Ellie Dubois
Devisors; Francesca Hyde,
Kate McWilliam,
Michelle Ross,
Lisa Chudalla,
Alice Gilmartin,
Costume Designer; Jennie Loof
Lighting Designer; Chris Hoyle
Producer; Nicola Lawton
Performers
Francesca Hyde
Kate McWilliam
Michelle Ross
Lisa Chudalla
Alice Gilmartin
A new female circus troupe explores the world of circus performance, what it means to try and fail and ensure the show must go on.
To begin with, the five performers roll out a fantastic opening routine – matching outfits and retro music takes you back to classic entertainment with some really impressive acrobatics and camaraderie. After the initial showcase comes the deconstruction; each performer takes to the stage to show off their individual skills, from cyr wheel to hand balance.
It's like a backstage tour of the performance with all the up close and personal moments showing up the not-so-glamourous side of their work. Injuries are easy to come by, training is tough and gender is still an issue in the performing arts, sadly regardless of how powerful these women are. All five are fantastic athletes.
It's a fabulous idea for a show that just needs a little more polish. It's a little rough around the edges and the girls are acrobats not comedians. That being said, there are some brilliantly funny moments.
No Show is wonderfully down to earth about the starry smiles and the extent of the physicality that is asked of them. It's clear they love what they do. The space is a little small for their potential and the pace is sometimes lacking, but this is inspirational and heart-warming and well worth a watch.
2nd-27th August (not 10th or 21st)at16.15