Image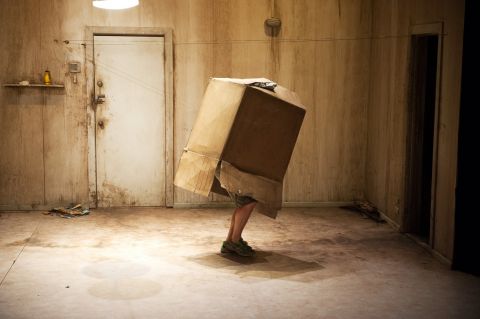 Production
Jon Haynes and David Woods (writers and directors), Jacob Williams (set design and construction), Marco Cher-Gibard(sound design), Richard Vabre (lighting design)
Performers
David Woods (Zach), Jon Haynes (Carol and Ieuan)
It's what we all yearn for – to be given some love. But it's often when we need it most that we shut the world out and box ourselves away. And that is literally what former Welsh soldier Zach (David Woods) who is suffering from post-traumatic stress disorder (PTSD) has done in Give Me Your Love , the second part of a trilogy on the treatment of mental health from award winning theatre company, Ridiculusmus.
In a set of a bleak and miserable room that looks like a kidnapper's paradise – all filthy weeping walls, open gas and water pipes, no furniture and a chained door with multiple bolts and locks - a voice comes from a cardboard box like an adult Mister Man. He'll be Mr. Scared Stiff. His wife Carol (Jon Haynes) communicates with him in the form of a disconnected voice and his pal Ieuan (Jon Haynes) only appears as a hand through the door's slit as he brings him an ecstasy tablet (aka MDMA) that's supposed to help him through the day.
Performed with immaculate timing and some serious clowning skills, and with an elaborate contraption that's part of the set allowing a sort of non- connected connection. This adds to the show's metaphor of being trapped albeit, in a place of choice, and the lengths someone in such a confined chaos will go to avoid making connections with the very people who could help.
Songs of the Beach Boys, strains of Dixieland and a particularly bland version of the already middle of the road song Raindrops Keep Falling on my Head accompany this singular look at a coping mechanism.
Ridiculusmus has been creating theatre for over twenty years with the 'oxymoronic aim of being serious and funny'. These masters of the absurd do this with enormous talent and Give Me Your Love , though inspired by the testimonies of war veterans and informed by medical research, manages to be ridiculously funny. It is not an easy watch, but the trademark take that Haynes and Woods have on things makes for a unique theatrical experience laced with black humour.
The trilogy's final part, that has the working title of Grief , will premiere in 2018.
15 to Sunday 27 August at 10.15am age recommend 14+