Image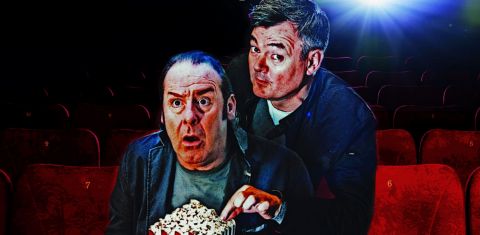 Production
Phil Differ (writer) Ryan Dewar (director)
Performers
Andy Gray(Mikey) and Grant Stott (Davy)
Back in the golden days of cinema, for the price of one ticket. two films were shown back to back - the big picture and the B movie. It was known as a double feature. The long- lost gift to movie goers gives title to this year's comedy show from Edinburgh's favourite panto duo, Andy Gray and Grant Stott.
In a derelict old cinema that's about to be turned into flats, two old pals Mikey (Andy Gray) and Davy (Grant Stott) have the job of clearing it out before the builders come in. The cinematic debris makes memories of days and nights spent together watching the silver screen come reeling back.
The fast-paced show, written with a great ear for an Edinburgh audience by Phil Differ, gives this duo, who must know each other as well as a married couple with so many years of working on stage together, a platform to have great fun acting out iconic scenes from classic big screen favourites of the characters' past.
From the likes of Ben Hur, The Magnificent Seven and Star Wars and of course including an impersonation of the ultimate James Bond of their time, Edinburgh's 'Big Tam, scenes are re-lived with the abandon of bairns. These mimes are co-ordinated with perfect comic timing to the films' musical soundtrack and Gray's take on 'Henry Fondle', the Regal's manager and resident sexual predator, is a treat to behold.
Joshing around and reminiscing as they play cowboys and gangsters holds most of the show's weight resulting in the dénouement of an unresolved part of their lives, that only comes to light at the time when the credits would go up, being a little lost.
That said, Gray and Stott hold the audience in the palms of their hands in this perfect vehicle for their well -honed comedy talent.
2-28 August 2017(not 14th) at 19.15 age recommend 12 +