Image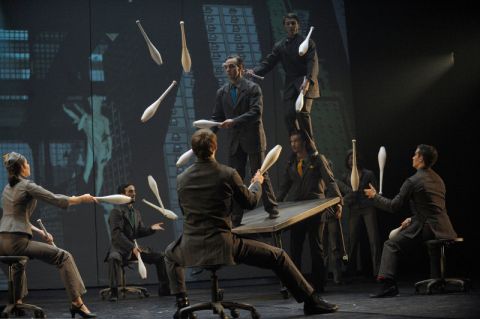 Company
Cirque Eloize in association with the Pleasance
Production
Dave St Pierre, Jeannot Painchaud (directors)
Cirkopolis is a highly polished big budget international circus performance of outstanding quality. The staging is large-scale and spectacular, with a dramatic setting loosely based on Fritz Lang's 1927 silent classic Metropolis, where a cultured elite lead beautiful lives above a grim underworld of oppressed workers. High resolution graphics projected on a huge screen form a backdrop of stylised city architecture and the rotating cogs of a giant machine.
There is a narrative of sorts centred on a downtrodden office clerk with an in-tray that never goes down, and there is the hint of a love-story, but the attempt to unify a variety of diverse circus acts into a coherent drama never quite works.
There is a routine with a cyr wheel of the most exquisite grace, and a powerful two-man act on the German wheel, which contrast the two different worlds of the metropolis very effectively. But, in general, the fast-paced acrobatics and juggling make less sense in the context of the story, and must be taken on their own merits, which are very good.
The agility of the performers and, in particular, the flexibility of their limbs is quite astounding. By the time we get to a truly phenomenal diabolo routine, we have moved outside the drama, the backdrop now blank to show off the cleverness of the act.
The most memorable sequence involves two acrobats on a Chinese pole. They climb and fall, singly and together, in a jaw-dropping series of moves. This might be seen as the repeated failed attempts of the oppressed to climb out of the darkness into the light, but in reality it is just a great circus act.
In the last scene, we are back in the workplace where an office party goes completely wild and there are high jinx on and off the filing cabinet. Finally, the in-tray gets emptied in spectacular style.
Cirkopolis is a slick, well-oiled production which showcases some of the finest circus acts on the circuit. The pace, the energy and the odd touch of humour make it a lot of fun, too.
Until August 28 (not 23), 19:30, + matinees 20, 26, 14:30, Age U
https://www.edinburghguide.com/reviews/circus/cirqueloizecirkopolisfest…