Image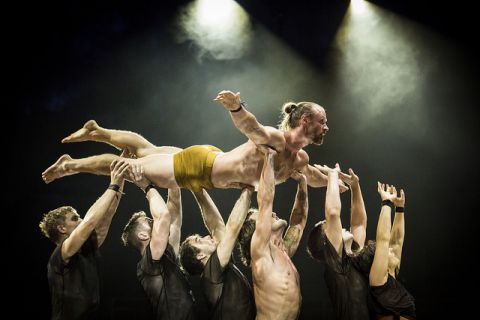 Production
Director Yaron Lifschitz
Technical Director Jason Organ
Costume Design Libby McDonnell
Performers
Caroline Baillon, Nathan Boyle, Marty Evans, Keaton Hentoff-Killian, Bridie Hooper, Nathan Knowles, Todd Kilby, Cecilia Martin, Daniel O'Brien, Kimberley O'Brien
In a breathtaking, gravity-defying display of acrobatics, Circa explore what it is to be human.
How are we made? What drives us? What can we do? What can't we do? Circa's new show transcends what we know we are and flawlessly demonstrates a human's full potential. The physical strength, grace and flexibility are astounding. Each member of the troop is superbly unique yet together they make a formidable whole.
Mostly the show is floor work but there are a couple of beautiful aerial displays on straps and bar trapeze.
There is a lot of tumbling, interspersed with fragments of human stories and some funny and endearing sequences as the performers explore their own bodies and limits. Headstands, splits, balances, contortion, and human towers are all executed perfectly as if these were the most natural things in the world.
The show is incredibly brave and has a beautiful, bated-breath quality of potential. It is utterly free; free from material constraints, and free from material inhibitions.
Although there is no story as such, there is beautiful story-telling within the performance. It is explorative and innocent, and very powerful to see these humans do the things they do with no safety, no tricks, no facade: it is laid bare, muscle and sinew and heart.
Until 26th August (not 9th, 14th, 21st), 7pm