Image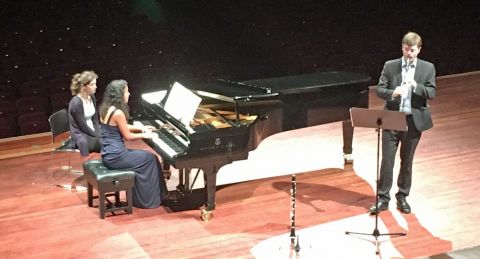 Company
Live Music Now Scotland, Emerging Artists Series 2016/17
Production
Howard Ferguson, Four Short Pieces (Prelude, Scherzo, Pastoral, Burlesque); Krzysztof Penderecki, Prelude for solo clarinet; Jennifer Martin, B-Cycle (Lullaby, Haywire, Hammers and Tongs, Push By, To Live with thee); Rory Boyle, Pour Beatrice for solo piano; Joseph Horowitz, Sonatina (Allegro calmat, Lento quasi andante, Con brio).

Performers
Calum Robertson (clarinet), Juliette Philogène (piano)
Edinburgh's clarinettist Calum Robertson was joined by Mauritius Island born pianist Juliette Philogène for the first of this season's Emerging Artists Series concerts. Each is at 11am on a Monday or Tuesday morning in the Usher Hall where the audience is sitting in the Organ Gallery.
Howard Ferguson's Four Short Pieces for clarinet accompanied by piano were each remarkably short but poignant. For the clarinet alone, and described by Calum Robertson as difficult, was Penderecki's Prelude - moody, low and thought provoking.
Jennifer Martin was in the audience to hear her BiCycle, commissioned in 2015 by Live Music Now Scotland with funding from the Kimie Trust. The five movements revealingly describe a mother and daughter relationship. It was interesting how the three middle movements all came to a fairly abrupt conclusion in contrast with the calm and peaceful end to the final, named To Live with thee.
Juliette Phellogène told us that her solo piece written by Rory Boyle came about after the birth of his granddaughter Beatrice and uses the notes B, E and A. The concert ended with Horowitz's cheerful Sonatina, the final movement with jazz in its blood.
Performance: Monday 12th September 2016 at 11:00. Emerging Artists Series, Usher Hall, Lothian Road, Edinburgh, Monday 12th, 19th & 26th September, Monday 5 December, Tuesday 10th, 17th, 24th January 11am-11.45am, £3 (on the door), FREE to students/schools.