Image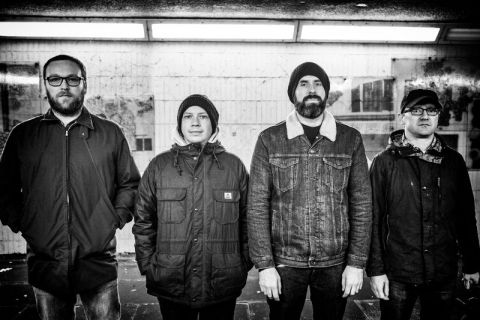 Performers
Mark Cousins (film director), Stuart Braithwaite (guitar, vocals), Barry Burns (guitar, piano, synthesizer, vocals), Dominic Aitchison (bass guitar), and Martin Bulloch (drums)
As the Edinburgh International Festival tackles the "thundering hooves" of rival UK festivals (notably Manchester) each year it strikes out to be more relevant to youthful audiences.
At the Playhouse the experimental post-rock combo Mogwai appear on stage (well don't appear – they're live but unseen and take no bow at the end). The band's brand of expressionistic rock forms the soundtrack to a film directed by Mark Cousins, the theme of which is nuclear energy – its message revealed not so much in dialogue but in captions (there is no voiceover) and snatches from public information films and news broadcasts. The audience might well think that "we live in a time of international tension" now. Many won't remember the muddy, oppressive threats of the Cold War that lasted from the 1950s to the 1980s.
In the film we see images from the past – faces of people of the world, nature dividing and reproducing, portraits of scientists (Curie, Rutherford, Einstein, Higgs). The film is one huge scrapbook montage. Black-and-white Japanese lotus blossoms shiver in the breeze as the music becomes more and more foreboding.
Mushroom clouds, Hiroshima/Nagasaki casualties, ban-the-bomb marches, Greenham, anti-nuke demos, the Cuban Missile Crisis, the space race, Laika and Gagarin, nuclear powers stations, Polaris submarines, Three Mile Island, Chernobyl (a lot of Chernobyl), Fukushima and then a sudden jump to NMR hospital scanners, the wonders of radioisotopes, CERN… and finally a series of on-screen statistics: $1 trillion will be spent on nuclear warheads in the next decade.
At a time when Trident's renewal and Chinese investments in new UK nuclear power provision are in the news again it would be timely to have some major artwork that deconstructs the arguments. But this is a relentless tour d'horizon on the history of the issues and notably from an East/West perspective (there was Gorbachev, but no Kim Jong-il) and absolutely no pop culture references.
Yet despite the relentlessness of the music – at times, it's lyrical and melodic but, at others, claustrophobic and insistent – this is a riveting and thought-provoking piece.
When it was shown on television last year one critic called it an art installation masquerading as TV. A more thorough-going documentary (Atomic cries out for a narrator) might have got the message over better but no one would pay money to go and see it.
27, 28 August 2016, 9pm