Image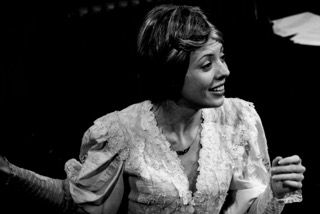 Production
David Black (writer), Andrew Dallmeyer (director)
Performers
Kelly Burke (Nancy)
The former Veterinary school Anatomy Lecture theatre at Summerhall is preserved as it was -a highly raked auditorium of wooden benches with writing desks, an old sink in the corner and blackboards on the wall. The floor is the theatre stage surrounded by the audience in a semi circle to create an intimate setting.
The simple set comprises two antique upright chairs, a table with papers and a quill pen, to represent the townhouse on Queen Street, Edinburgh, the home of Robert Ord, Chief Baron of the Exchequer and his family.
His daughter is the beautiful Nancy who now enters this "Drawing Room," elegantly dressed in a cream lace gown, her hair neatly pinned up, chignon style. While there is no premise as to why she is addressing us, it works well theatrically as a presentation of her memoirs with extracts from diary entries, letters and humorous anecdotes, as she looks back to joyous times in the company of the "man of genius", David Hume.
Within minutes, we are drawn into the mannered, richly intellectual society of the Enlightenment era in Edinburgh. She reveals that Jamie Boswell has observed how she has turned heads, that there's gossip of a scandal with her association with Hume. We quickly learn that Nancy is a highly educated young lady, who studies music, French and botany who is clearly inspired by Hume's philosophical mind to analyse society, politics and theology.
"Generally speaking, the errors in religion are dangerous; those in philosophy only ridiculous" David Hume. For such remarks he is deemed to be an atheist but he cannot believe in God if there is no proof. Nancy delights in relating a story about how her mother (appalled by Hume's disbelief), attended a dinner party at Rob Adam's house where she sat beside a most charming and amiable man who of course was Hume himself!
David Black has written a most exquisite, multi layered, literary script with the language, nuance and authentic sense of time and place; we are immersed in the period's artistic and architectural concerns – a rectangular window is a universal rule of beauty. But the more often Nancy visits Hume – who is twice her age - at his house on St. Andrew Square, the gossip of their "unseemly" affair soon reaches her parents.
Kelly Burke is an extraordinary storyteller as she dramatises quiet vignettes, angry scenes and a desperate, late night clandestine meeting. One can almost see her Philsopher standing there, solemn, sorrowful, holding her, kissing her tears - a dramatic moment of breathtaking poignancy.
One of Hume's key arguments centred on whether we should be governed by reason or by emotion? Through Nancy's eyes, we observe him as a man who defines our existance and human nature through logic yet who clearly demonstrates his mutual affection and perhaps a deep passionate love.
This is an enchanting, richly poetic portrait of David Hume as observed by Nancy, his intelligent advisor, confidante and muse, performed with gentle grace and heartfelt emotion by Kelly Burke.
After such a short run during the Fringe, "Nancy's Philosopher" deserves to be produced as a fully staged play with a more elaborate set, music, and even developed with a larger cast. However, as a solo performance, this is a magical, memorable theatre.

Performance details
Nancy's Philosopher was performed from 16 - 20 August