Image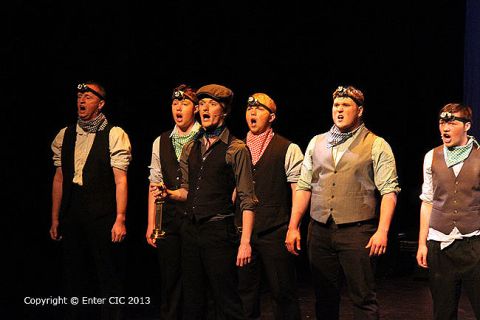 Production
Paul d. Flynn(Writer and composer) Andrea Mallen(Director and Choreographer
The Wind Road Boys starts with a tremendous ensemble number before we get to meet George, an irascible miner now in a hospice exchanging banter with a young carer.
George is a real character and the actor playing him looks and sounds the part. As he prepares to die he hands over a letter to the carer and he spends his last moments looking through his memory book.
We are also introduced to Helen a local activist who has returned to spend her life fighting causes and James the son of a bullying supermarket developer with eyes on the former mining village for their next emporium.
James and Helen have history and seem to have a love hate relationship with the accent on the latter, but watch this space.
The villagers are undecided about the benefits of the supermarket and the bribes of jobs on offer. As George dies, he bequeaths in his will the land for the supermarket to James' father's company. His visit to the solicitors is well acted in a comic way but seems a curious side-show for what is largely a powerful drama.
One of the conditions of the inheritance is that he spends the night in George's former home reading his memoirs. The story is led by George now between life and being reunited with relatives on the other side and it is a look back in history through dream sequences. There are twists and turns as the plot unfolds.
The show is characterised with great strong songs delivered by a mixed ensemble of age and gender.
There are lots of good actors on display but the choreography is creative and exceptionally well-rehearsed. There is one scene when the theatre is engulfed with smoke and dust and another when miners' head lamps are used effectively.
The production centres on one incident in George's life that effects the community in the present but so much has happened to mining communities in the 20th Century that there is plenty of scope for a sequel. This may be meaty drama, but would be suitable for all ages.
Runs to Sun 17th Aug @ 17.20
Tickets £11 (£9) concessions