Image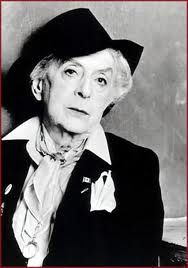 Company
Seabright Productions
Production
Mark Farrelly (writer), Linda Marlowe (director), Hilary Statts (designer), Tom Lishman (sound designer), Sam Cox (wig designer), David Benson (voiceover artist), Sarah Quinney (stage manager.
Performers
Mark Farrelly (Quentin Crisp)
Quentin Crisp was a one-off, a complete original, and Mark Farrelly's superb tribute cunningly captures Crisp's very particular USP: his style.
Wild Thing was playing in the background when the spectacle that was Crisp glided into the stage area with just the right amount of sway to the hips, and not too much overdoing the flamboyance. Farrelly had caught the style just right, with carefully coiffed hair of blue and purple hues, and sandals displaying his darkly painted toes.
Quentin Crisp had risen to fame following John Hurt's memorable depiction of him in the film of his memoir, The Naked Civil Servant. Following this, Crisp toured with a one-man show, recounting his memoirs during the first half and wittily answering questions from the audience during the second. Farrelly's show echoed this format.
During the first half, a young-ish Crisp told anecdotes from his life as he paraded around his Chelsea bedsit. This bedsit, represented by a shabby rug, an old chair and a bottle of stout set stage left, had been his home for over forty years. After becoming famous, he was often why asked why he didn't get a bigger place, to which he famously replied, 'But what would you do with rooms you weren't in?!'
Much of the show hinges on Crisp's novel take on life and his quotable, sound-bite witticisms. All tales are told with a sharp humour - from brutal beatings to his work as a life model – and are hugely entertaining.
For the second half, Farrelly moved across to stage right where the famous wig was sitting in front of a dressing-room mirror, the famous hat hanging on the end of a clothes rail – the definitive symbols of Crisp. Farrelly then changed into a dress-suit and shoes, while An Englishman in New York – written for him by Sting – played in the background.
This was now a much older Crisp. He had moved to New York at the age of 70 and famously celebrated his 90th birthday performing the opening night of his show, 'An Evening with Quentin Crisp', - and perhaps this was it. Farrelly closed the performance by taking questions form the audience, as Crisp had originally done. Prepared questions were read off cards by a bloke picked from the front row. The responses were priceless.
From start to finish, the witticisms rolled out: 'I'm not famous I'm notorious!'; 'If at first you don't succeed, failure may be your style.'; 'Never try to keep up with the Jones's, drag them down to your level.' Crisp always maintained that his aim was to live in the continuous present – a fine trick if you can pull it off, and he appeared to manage it better than most.
Farrelly has put together a winning script and performed it with enough style to win even Crisp's approval. An excellent hour's entertainment.
Runs until 25th August (not 20th) at 3pm