Image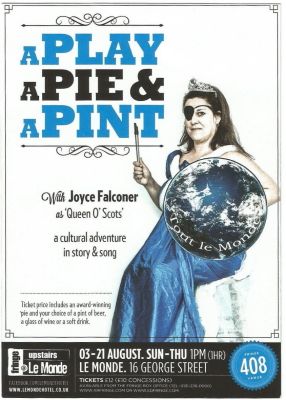 Production
Joyce Falconer (writer)
Performers
Joyce Falconer (Queen o' Scots), Annie Grace (piper)
The bordello style room of the upstairs venue at le Monde, that is reminiscent of Manet's Bar at the Folies Bergère, plays host to 50 minutes of music and song from well –loved Aberdonian actress, Joyce Falconer.
Lying hidden on stage, undisturbed by the cackle of audience chatter and general pie consumption, the Queen o' Scots, a baudy embodiment of Alba has her slumbers broken by the haunting sounds of Northumbrian style pipes and rises from under a stylised saltire.
Instantly interactive, this strident and comic show is performed in Falconer's native Scots for the most part. In her trademark gallus, in yer face style, Falconer stravaigs through this "hybrid" people's past from pre- history through Vikings, Romans (and Scots Italians); the Auld Alliance; the Unions with England; Burns to the present day. Aye, all in 50 minutes!
Falconer gives a fierce performance as she strides across the stage and through the auditorium delivering bullet fast lines from side of her mouth. The show is full of hilarious parodies of songs as far apart as the risqué Ball of Kirriemuir and the romantic Under the Bridges of Paris that she accompanies on the accordion. Her delivery of the song Je ne t'aime plus a song for Mary Queen of Scots, proves her a passionate Piafesque chanteuse
Her delivery of Burns' poems is impressive, and it was rather nice to hear some of the audience murmuring familiar lines along with her and others getting tore in at participation in the witches scene of Tam o'Shanter. Good raucous fun!
Falconer poses on the show's flyer like a Scots Boudicca, wielding a shield bearing the words tout le monde a slogan apt for the venue as well as for internationalism that chimes with the show's message "humankind in common bond".
Once again, Hamish Henderson's international anthem Freedom Come All Ye was sung, this time accompanied on the piano by the talented Falconer with piper Annie Grace closing the show with the heart rending air.
In time honoured A Play a Pie a Pint ticket tradition, the price includes an award-winning pie and the choice of a pint of beer, a glass of wine or a soft drink. Go and join in a raucous 'wee' hour in the company of Bella Caledonia!
Age suitability 18+
Aug 6-7, 10-14, 17-21
1pm
£12/£10