Image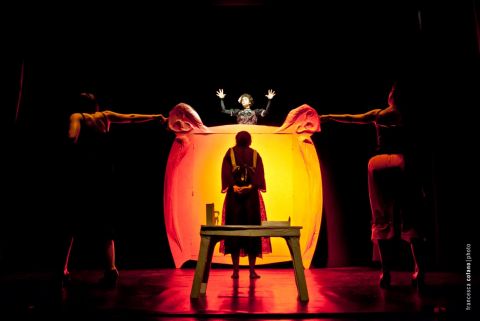 Company
Factory Compagnia Transadriatica, Compagnia Elektra & Tir Danza
Production
Tonio De Nitto (writer and director) Lucia Lapolla (costume design), Piero Andrea Pati (set design), Davide Arsenio lighting design), Annamaria De Filippi(choreography),
Performers
Mariliana Bergamo (Genevieve) Francesca Nuzzo (Anastasia) Serena Rollo Miccoli (Cinderella) Antonio (Prince) Fabio Tinella(stepmother)
Sheer magic and the power of love. These are the main ingredients in this gorgeous re-imagining of the classic tale of Cinderella from this southern Italian theatre company and its colleagues.
This production is aimed at children, but has the delightful capacity to charm and captivate adults as well. Italians have the knack of doing everything with tremendous style and this story has been retold with panache and a twist in the tail for good measure.
The intimate space of the Yurta tent at Summerhall becomes a fabulous miniature circus in the hands of this company. All the ingredients of the Cinderella story are present in compact form. The Fairy Godmother is embodied in the magical cabinet where doors open with no visible strings. It becomes a music box, a clock, the sisters' bedroom and the wardrobe to Cinderella's three (yes, three!) beautiful ballgowns.
The ragged and beautiful Cinderella (Serena Rollo) kneels to rub and clean the white dolls' furniture that cleverly represents the grand house where she is the servant. Her two doll faced sisters (Mariliana Bergamo (Genevieve) and Francesca Nuzzo (Anastasia)) are magnificently wicked and beautifully bustled and knickerbockered as they display their skills in clowning, mime and movement.
The stepmother in drag (Fabio Tinella) dishes out punishment and pleasure, looking down to her girls from high stilts. The stereotype of the handsome prince is shattered as this show's bespectacled hero has a sad, shy and awkward demeanour. Played with comic sensitivity by Antonio Miccoli, this red-booted Prince is a refreshing delight. His finding the owner of the shoe is a formality, their secret body codes were well in place and his heart already melted - well it was made of chocolate!
With music from the swing of Sing Sing Sing through to Rossini and Letkiss, with Frank and Nancy Sinatra thrown in for good measure, this eclectic mix adds to joy of the experience.
The eye-poppingly fabulous costumes are designed by Lucia Lapolla who works in La Scala, Milano and the lighting from Davide Arsenio creates just the right atmosphere.
This is exquisite theatre that envelops the audience in magic and transcends language. Simply wonderful!
Runs 4-25 August, 3.45pm
£8 (£6/£5)
Suitability 5+