Image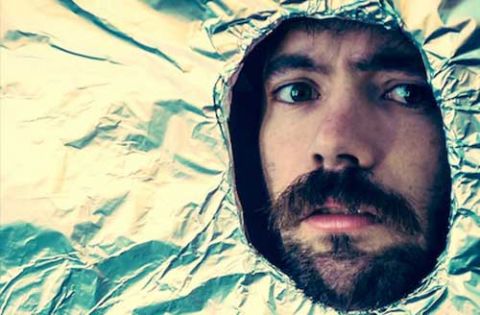 It has to be said that I had pretty low expectations for She Was Probably Not A Robot. I'm not sure why. Perhaps it was because the leaflet handed to me just showed a man with his head stuck in a box covered in silver foil. Perhaps it was the rather uninspiring title. Or perhaps it was because I had not come across a truly terrible show yet and felt that I was due.
Of course, perhaps as usual, my initially instincts proved to be completely and utterly wrong. Not only was She Was Probably Not A Robot a total delight, but it's likely to be one of the best shows I see at the Fringe this year.
Everyone in the world is dead. All, that is, except one man who sets out to find the one he loves….and his dog.
If you are looking for an experience to just make you smile I urge you to go and see this phenomenal one man wonder show. Performer and writer, Stuart Bowden, is an absolute genius. Insanely surreal yet touchingly true, he has created a piece that can both crush and lift you in the blink of an eye.
With live music, bizarre storytelling and perfect physical comedy, She Was Probably Not A Robot will leave you with a skip in your step and a smile on your heart.
Endlessly inventive and superbly performed, I honestly cannot envision there being a funnier piece of theatre at the Fringe this year. An inspired piece of magic that needs to be seen to be believed.
Til 25 Aug, 4.10pm