Image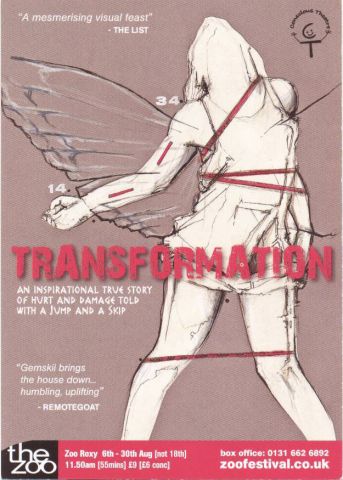 Company
Conscious Theatre
Production
Conscious Theatre
Never judge a book by its cover, or in this case a Fringe show by its poster. Unless of course the poster is an indication of the show's quality - and by sheer first time round pot luck, I hit the jackpot.
A couple of weeks ago I suggested to my editor I write a piece about the poster and flyer art on display throughout the city and duly scoured the poster boards and flyer racks of various venues. But then one day as I walked past the Pleasance Dome I saw a two-page spread pasted on the review boards - a feature in The Independent on the very same topic. They'd pipped me to the post and picked several of the same images I'd chosen myself so I decided to simply mention the most arresting image that caught my eye during my city jaunts which you see here: the poster for Transformation, a one woman show in the basement of the Roxy Arthouse, one of this year's Zoo venues. But then I thought, 'Och I might as well see the show'.
Entering the tiny venue I got the feeling I may have been holding up the start as I had trouble shuttling at the last minute like a pinball between Black Medicine, The Brass Monkey and the box office, all yards from the venue in order to get the two things I needed the most - a ticket and more importantly a really strong coffee. I can't watch a show in the morning unless I'm clutching a double espresso - it's my security blanket and fallback plan, especially when I don't know anything about what I'm about to see. If it's crap I can always quietly sip and smell that Colombian rainforest and drift away into my own headspace.
Despite my late arrival to the Embassy Gallery in the basement of the Roxy Arthouse, one of Edinburgh's newest and trendiest arts venues, I and the rest of the audience are warmly welcomed into the space by solo performer Gemskii. So far so good; I'm not getting a slapped wrist and tuts from the other punters yet I feel a momentary pang of doubt and regret, for I'm in a small, brightly lit basement venue with a solo performer. I've been in this situation before - trapped after the doors shut and forced to watch what I can't bear, wondering how I got there. This could be the same, this is just a random gamble for me based solely on the show's flyer.
Then Gemskii, a handsome and athletic presence begins by telling us all that it's ok for us to laugh during the show despite the strong material. This worries me more - is she saying this because previous audiences haven't laughed? I take a swig of strong black and think 'I'm here to review the show dammit, I'm gonna sweat this one out, I can take it . . . I'm a professional'. Sort of.
Five minutes later I'm completely enraptured by this woman as she begins to narrate what turns out to be her own lifestory, told through a combination of conversation, mime, song and dance with the occasional interactive joke or aside to the audience. This is a confident, trained and skilled performer giving it her all. The story she narrates, mainly in chronological order, charts her life from age 3 through to 37, taking us up (if my calculations are correct) to 2008.
Essentially she chronicles three decades of sexual abuse, rape, drug addiction, violence, self-harm and at the heart of it all self-victimisation. It finally culminates in her repeated attempts to break out of the ingrained pyschological patterns she's trapped in after having an epiphany about about the single childhood incident that sparked the genesis of her troubles. Don't stop reading, I know this sounds really grim and as unlikely as it sounds, this is one of the most enjoyable, brave and illuminating shows I've seem at the Fringe in a long time.
It's the kind of material that in lesser hands, in a less talented, less confident or less charming personality might come across as self-important, over the top or pretentious and I have to admit, due to Gemskii's youthful appearance and gymnastic ability I had trouble a couple of times believing one person could go through all this and still come out looking as fresh faced and as seemingly enthusiastic about it as she does. No doubt its her physical fitness as a profesional dancer that belies her real age.
But what keeps it rooted firmly in the ground and believable is her self-effacing matter of fact manner coupled with generous doses of laugh-out-loud humour in the face of some horrendous experiences. Sometimes we laugh, akwardly at first (but she encourages us to do so, both at her and with her) as one moment of madness is topped by an even sillier moment of self-destructive behaviour.
But this embarrassed-to-laugh-at-her-misfortune-yet-we-can't-help-it vibe is controlled entirely by herself which allows us to cope with everything she so vividly depicts. She's also served by a crisp, well-written monologue and her physical stage presence and skills. I particularly enjoyed her fighting herself as she tries to give up drugs, wrestling with the angel and devil in her at the same time and there were some lovely lines - like one where during a physical attack on her by a former lover she curls up into a ball and tries to 'talk the light back into her eyes'.
My only reservation was that a performance of this power was taking place is such a small space and I felt it might have benefitted from a grander setting, a few sound effects and some moody lighting on occasion, but then again, perhaps the intimate confessional nature of the show lends itself to such a raw setting and perhaps the portrayal of such a long suffering rite of passage has to be raw as well, as polished as it was.
Fortunately Gemskii pulls off her own self-analysis and redemption with such charm and confidence that minor quibbles here and there don't matter, so if you have the stomach for some unsettling content then this a must-see show.
Show Times
Till 30 August, 11.50am

Ticket Prices
£9 (£6)
Poster artwork by Tommy Davidson / www.jindrak.com / www.dumdum.co.uk
Gemskii also has another show Parking Shmarking at the Zoo Pleasance, 19-21 August, 9.35pm and 22-30 August at the Zoo Roxy at 1pm.