Image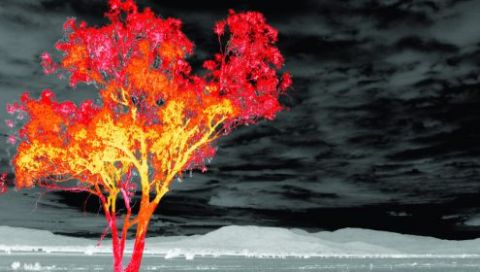 Performers
Ali Kennedy-Scott
"I hope they have good bikes in heaven" enthuses five-year-old Aidan as he thinks of his best friend Jack who didn't survive last year's horrific bushfires that killed 173 people and wiped out thousands of homes across Victoria early last year.
He's just one of five real life characters played by Ali Kennedy-Scott in her one woman show charting both the human cost and the strong community spirit that emerged from Australia's worst ever natural disaster.
Apart from little Aidan, who treats the family panic and emergency evacuation as a big adventure (oblivious of the real danger catching up), there's also an elderly lady, a journalist sent to cover the story, an ordinary housewife and most unexpectedly the mother of one of the many suspected arsonists who may have been behind the event. I say interesting because this is a character you don't initially expect to sympathise with as she struggles to come to terms with her son's criminal pastime.
The play is a straightforward unfolding of events as told from the characters various points of view, interspersed by regular radio news updates (I was unsure if they were the actual recordings or convincingly real audio mock-ups) gradually revealing the full scale of the events as they unfold.
As expected the town of Marysville, which came to symbolise the worst of the disaster, gets name-checked in various capacities. The lack of full awareness by the public of the danger they faced and subsequent lack of sensible precautions is also a major point raised in the play.
The various monologues always engage and are frequently touching but it's the very unsettling description by a journalist who comes across families sitting 'frozen' dead in their cars that rams the reality home as well as the five years old's enthusiastic rants and childlike perception of what's happening around him that moved me the most.
Luckily the horror is counterbalanced with enough doses of humour and an uplifting depiction of the various communities rallying around each other in the aftermath. Although the minutiae of the various human dramas gives the play a wide accessibility, The Day the Sky Turned Black will undoubtedly resonate most strongly with Australian audiences where the play may provide a form of, or a degree of creative catharsis.
I felt it could have benefited from a little less of the repetitive tinkly piano music and perhaps they could have thrown in a few dramatic sound and lighting effects (e.g. of approaching fires, the sounds of the outback, etc.) to add some punch to the proceedings, but having said that Ali Kennedy-Scott's a compelling and accomplished performer and one can't help but be moved by the play's content and the various angles of the tragedy she explores.
Show times
Till 30 August, 5.30pm

Ticket Prices
£9.50-£10.50 (£8.50-£9.50)