Image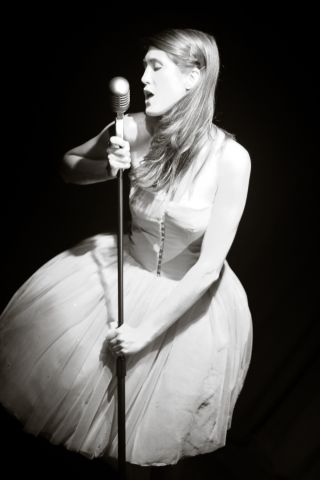 Company
Theatre Ad Infinitum
Production
Nir Paldi (writer, director)
Performers
Amy Nostbakken
This one woman show narrates the story of a Canadian girl's visit to London when invited to take part in a summer art course for a group of the most talented students and to exhibit their work at the Tate. This scenario is the start of Natalie's journey, standing on the brink of adulthood as she prepares to study, to paint, to work; it's also a time to express her feelings, emotions and insecurities.
This new production by Theatre Ad Infinitum is described as "a poignant tale inspired by the lives and works of Virginia Woolf, Silvia (sic) Plath, and Anne Sexton," three intelligent, highly gifted, literary writers who all committed suicide.
The Big Smoke is unashamedly reminiscent of The Bell Jar, the novel by Sylvia Plath, in which college girl Esther arrives in New York, one of twelve girls who have won a magazine contest for a summer job on Ladies Day magazine.
Theatre Ad Infinitum is based on the performance style of the Jacques Lecoq school, which teaches a classic method of physical theatre, gesture, movement and mime. In the role of Natalie is Amy Nostbakken, who appears quietly through the shadows to the front of the stage to stand at a vintage microphone. Dressed in a 50s period coral pink ballerina dress, her long brown hair partly braided, she begins to tell – to sing – the story of her experiences in London.
Amy is not only a fine actress, but an enchanting singer with a unique, expressive voice. This is no ordinary one woman play, but a mini opera, an aria, a narrative poem performed "a cappella" without musical accompaniment. The score flows and shifts in rhythm and melody, blues riff to romantic ballads. The lyrical text relates her adventures around London, nights out with her wild cousin, confrontations with the Art Course director, seamlessly moving between the voices and characters.
But beneath the surface Natalie is a fragile, psychologically disturbed girl, who is drowning not waving. She fantasises about throwing herself in front of a train, she sees nothing ahead but choices, the 7 Dials crossroads with a confusion of exits but nowhere to go, to escape life. Time is running out on the course and she has not been painting, "I was an artist … I am an artist," she cries in despair.
Blending happy, humorous anecdotes with bleak, heartfelt thoughts, Amy Nostbakken captures Natalie's disparate colliding, clashing identities from sane to psychotic. While the elongated, overly-written denouement has a touch of misplaced melodrama, overall this is a fresh, inventive, challenging piece of musical theatre, performed with imagination and genuine insight.
Show times
Till 30th August (not 17, 24), 2.20pm
Ticket prices
£10 (£9.00); £ 9.00 (£7.50)