Image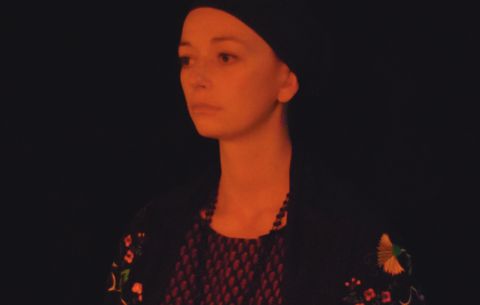 Company
Inside Inteligence
Production
DM Thomas (Translation)
Performers
Holly Strickland (Anna)
This is the first staging of the renowned poet Anna Akhmatova's epic A Poem Without a Hero, Translated from the Russian by DM Thomas. Performance poetry with an air of sophistication, this is a potentially tricky, yet rewarding piece of theatre that provides an excellent place to start on the poetry journey.
"You're not surprised when I can't sing" chirps Holly Strickland (Anna) to the stacks of books that pass for ghosts; don't be surprised then if this isn't the song for you.
A poem that was some twenty years in the making, the magnum opus of Anna Akhmatova comes to the Edinburgh Fringe in the form of a one-woman show. For fans of Akhmatova it is a chance to delight in a newly translated extension of possibly the most famous of this fascinating Russian poets' work. For those who are not familiar with her, this proves to be a cerebral and provocative piece of drama.
Strickland is surrounded by dusty stacks of tomes on stage, they form the apparatus she uses to deliver this meditation on imagination, adventure and madness. You will require patience and probably a weightier-than-most understanding of either Akhmatova, or of the classics that inspired her.
If this sounds like it appeals to you, then you will not be disappointed. The performance is top notch and the staging itself is very fitting, but it's hard to recommend this to anyone who isn't a poetry fan, (even the curious among us who can spare an afternoon to go and watch a theatrical homage to the woman, would be hard-pushed to find the half-hour soliloquy on offer less than a little daunting) but the way in which this piece is delivered is a fine example of how poetry can take a visual form through human performance.
Too often nowadays performance poetry is the reserve of the beat-boxer or politically-toxic comedian. Strickland is excellent, perfectly capturing the essence of the frailty and strength that contradict so much of Akhmatova's biography. She floats and she stings while keeping close to Akhmatova's Asiatic premonitions.
This is probably a show that will inspire and terrify audiences in equal measure. This is what the Fringe is all about though, and if you fancy exploring a poet that has a fascinating body of work and a truly unique story to tell, I suggest you get along and find out just how you will respond to this Poem Without a Hero.
Show times
C Chambers Street, Til 30 Aug (not 17, 24), 3.15pm,
Ticket Prices
£7.50–£9.50 (£6.50–£8.50).