Image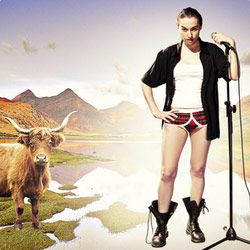 Company
Dogstar Theatre Company
Production
Matthew Zajac (Director), Henry Adam (Writer), Ulla Karlsson (Set & Costume design), Iain MacDonald (Assistant Director)
Performers
Sarah Haworth (Haggis McSporran), Fiona Morrison (Craitur Face), Mairi Morrison (Eddy, Vernon, Granny), Annie Grace (Uncle Angus)
Scotland has always felt more of an outsider in the political mire that is Westminster. Where we fit in is a question being asked on both sides of the border. It's this sense of not belonging which is explored in Fringe First winner, Henry Adam's new play Jacobite Country.
Haggis McSporran, an auxiliary nurse, is a bitter nationalist. His aim: to exploit his views for a shot at stand-up fame. His relationships, or lack of, are beginning to make his life difficult as he is surrounded by people he feels hold him back. Everything changes when he discovers his true place in the hospital hierarchy.
Ulla Karlsson's set of broken padded walls, unsettling stag heads and a solitary ladder, combined with Adam's script gives an edgy perception of the Scottish mentality. Almost entirely set inside a mental institution, it portrays Scottish identity as an illness which is holding us back.
The action is played at a frantically fun pace, with characters as mad as they are likeable, this is a Scottish One Flew Over The Cuckoo's Nest without the sanity. The only downside is a script that gets lost amongst the madness, leaving the audience at times a bit perplexed. That aside, if you're up for a bit of self-deprecation then this is certainly worth seeing. Scotland's place in UK politics may be confusing but there is no question that The Fringe is where Jacobite Country firmly belongs.
Show run: 7-30 August, 3.50pm