Image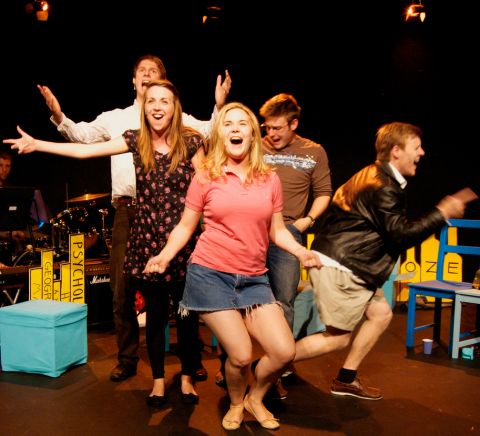 Company
Paulden Productions and the Blue Penguin
Production
Guy Unsworth (director), Mark Aspinall and Sally Torode (writers), Adam Paulden (producer), Catherine Baines (designer), Racky Plews (choreographer), Jamie Harris (company manager/technical)
Performers
Natasha Barnes (Ally), Mark Lawson (Basil), Andrew Tryant (Tuc), Steven Aspinall (Rupert), Victoria Gimbey (Hayley)
Another potentially Famous Five but 'Fresher' is certainly not Enid Blyton. The show opens with five students meeting up in Freshers' week. They are all very different and probably not that far from the reality of student life.
The 3 guys and 2 girls consist of Tuc, an apparently loudmouth, insensitive jack-the-lad; a posh guy 'Rupert' who is polite and spouts poetry, but has an eye for the girls. The butt of the early jokes is 'Basil' and he is unsure of his sexuality and how other students might react. The girls are also very different, from the rich bitch blonde (Ally) used to getting what she wants and the anxious, unsure girl (Hayley) who starts to come out of her shell.
From the opening bars to the end this show exuded professionalism with the cast getting their characterisations so spot on that you forget they were acting. The songs were sometimes raucous, sometimes poignant and occasionally tender but they were all delivered with verve and harmony when required.
It would be unfair to highlight any particular actor as they were all excellent. The script is delivered with pace getting the laughs from the lines and at times capturing the pathos of the discovery of who each character actually is and what is important to them.
The theme is adult and the show is not for children. Some of the dialogue is perhaps unnecessarily crude and could be toned down without affecting the enjoyment of the show.
The band was excellent together with great sound mixing making this show a very quick 70 minutes.
Show times
Til 30 Aug (not 16), 5.35pm
Ticket prices
£7.50 (conc) to £9.50