Image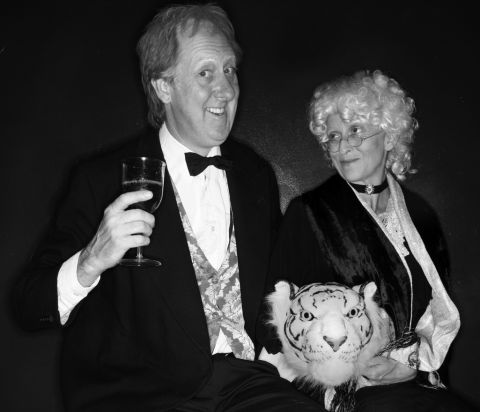 Company
Dinnerforone - Onstage
Production
David Lavender (director)
Performers
Chris Cresswell (James), Miriam King (Miss Sophie)
Dinner for One is a vintage British comedy sketch written by Lauri Wylie in the 1920s, later regularly performed by Freddie Frinton and May Warden around seaside resort Variety shows. For some bizarre reason their performance was recorded by German Television in 1963 and this original short film is shown in Germany every New Year as a traditional cult institution. Virtually unknown in Britain today, this new stage version starring Chris Cresswell and Miriam King on the Edinburgh Fringe is a welcome revival.
The plot in brief: it's the 90th birthday of upper-class Englishwoman Miss Sophie, who hosts a dinner every year for her close friends, Mr Pommeroy, Mr Winterbottom, Sir Toby and Admiral von Schneider, to celebrate the occasion, waited upon by her dear old, rather doddery butler, James.
Miss Sophie decides on appropriate drinks to accompany the menu which consists of Mulligatawny soup, served with sherry, North Sea haddock, with white wine, chicken with champagne, and fruit dessert with port.
As James dashes around the table, filling and re-filling all the guests' glasses course by course, he asks the same question:
James: The same procedure as last year, Miss Sophie?
Miss Sophie: The same procedure as every year, James.
I shall not reveal the farcical elements, but if you love Faulty Towers, or simply old fashioned British comedy, this is laugh a minute fun for all ages. Chris Cresswell is absolutely hilarious with impeccable timing while Miriam King plays Miss Sophie with sophisticated charm, each bringing a fresh, modern comedic style to this classic sketch.
However packed your Festival diary, this wee gem of a show is a perfect 15 minute appetiser at lunchtime.
Times
Till 30 August (not 17, 24), 1.50pm and 2.30pm

Ticket prices
£5, £4 (concessions)