Image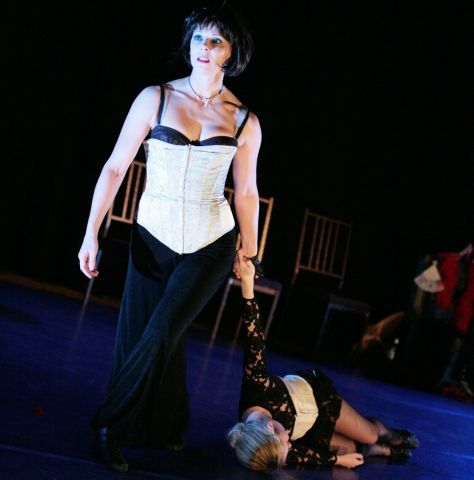 Company
Company Chordelia Dance Theatre
Production
Kally Lloyd-Jones(director/ choreographer/ artistic director), Damian Thantrey (music director), Grahame Gardner(lighting design), Matt Foster(guest choreographer), Tom Rogers(stylist)
Performers
Damian Thantrey (singer) Jonathan Gunthorpe (singer 20, 21, 22 August), Kimberley Lawrie, Kally Lloyd-Jones, Kirsty Pollock (dancers), Jessica Johns/Ian Ryan(pianists)
Ghillie Dhu is a splendid, new, high-ceilinged venue, with a long mirrored bar reminiscent of Manet's A Bar at the Folies- Bergère. The opulent feathers and silken dresses on stage, with a high stool and piano looked promising. The three dancers appeared in silk dressing gowns and started making up and warming up on stage to a very slow version of the song The Way you Look Tonight.
Maybe I've been spoiled by the less than perfect, but seductive voice of Bryan Ferry, but Damian Thantrey's flawless but passionless singing voice was, to this reviewer, more suited to Victorian Ballads than the songs that followed. His formal version of Anyone who had a Heart made me long for Dionne or Dusty and 10 Cents a Dance that should have been plaintive was note perfect but soulless. Sadly, Kirsty McColl's wonderful song In these Shoes was neither wicked nor risqué.
Through several minor costume changes, the dancers' lithe limbs acted out the lyrics. Their fine movements should have been in foreground but were somehow overshadowed. Their clothes changes on stage looked less alluring and more as though dressing rooms were busy and the drag scene, which could have been funny, was not nearly cheeky enough.
This is a cool and confident ensemble but their very coolness somehow made any sexual gestures look crude. They all clearly have plenty of talent but this show didn't seem right vehicle to display it. It seemed restrained like the dancers' waists in their basques.
Times
Till 22 August, 4.15pm
Tickets
£8 (concessions) -£12