Image
Image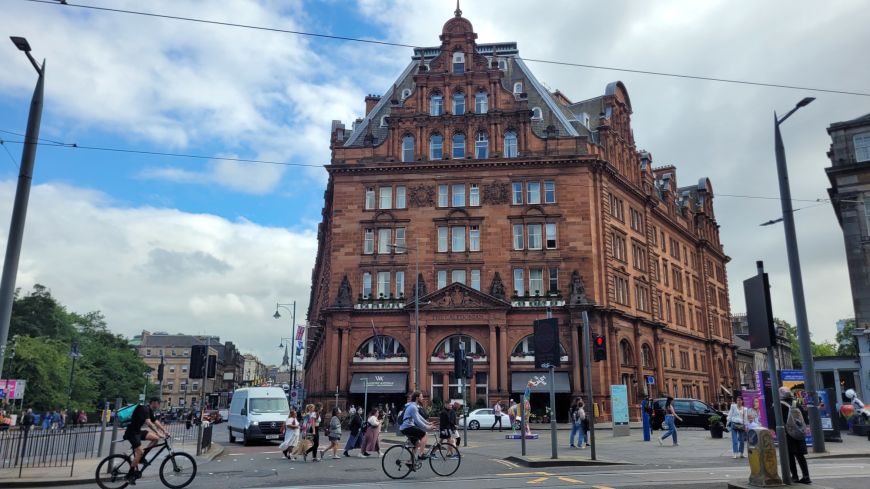 Street
Princes St, Edinburgh
For those with longer memories, the 5-star Waldorf Astoria Edinburgh may always be known as just "The Caledonian" or the shortened "Caley". But whatever you want to call the large, red, sandstone building at the corner of Lothian Road and Princes Street, it remains one of Edinburgh's most prestigious and landmark hotels.
Like its counterpart, the Balmoral, at the other end of Princes Street, the domineering building on Lothian Road originally opened in 1903 to serviced an adjacent railway station. The Caley, or Princes Street Station Hotel as it was officially known, is the most visible reminder of the station which closed in 1965.
The hotel has been renovated over the years, but has links with its railway past as seen in the original station gate still preserved at the Rutland Street side of the building.
Inside the building, the original station concourse and ticket office have been converted into the Caley bar and lounge area, named Peacock Alley, complete with the station clock. 
The Caley has fine dining at Dean Banks at The Pompadour and upmarket Scottish restaurant, Grazing by Mark Greenaway.
The hotel also has a spa, steam room, sauna, whirlpool, a two-floor gym, and an indoor swimming pool overlooking Edinburgh Castle.
There are 9 meeting rooms and 241 guest rooms.
The Caledonian is next door to Standard Life House, also built on the site of the former Princes Street station. The old railway bed connected to the station was transformed into the West Approach Road in the Seventies.