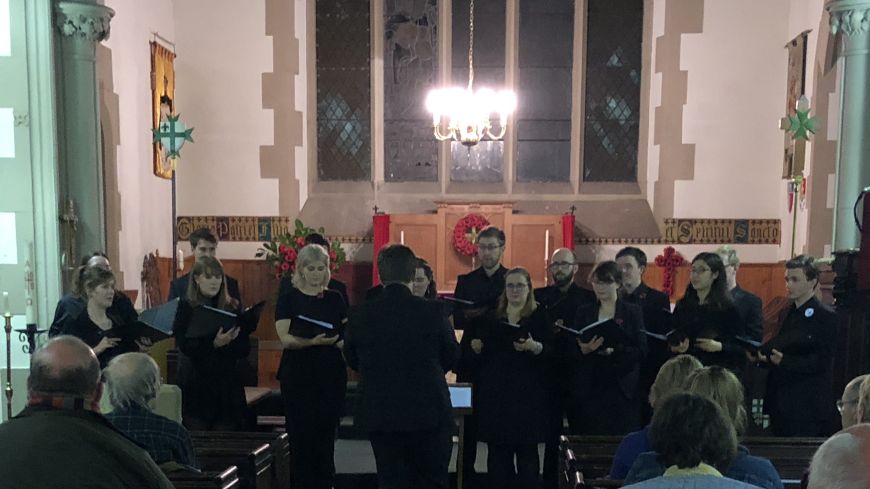 Production
Purcell, Remember not, Lord, our offences; Tavener, Funeral Ikos; Gill, Unfailing Love; Whitacre, Sleep; Parry, My Soul There is a Country, I know my soul hath power to know all things, Never Weather-Beaten Sail, There is an Old Belief, Lord, All the round Earth's Imagined corners, Let Me Know Mine End.
Performers
Cole Bendall (Artistic Director), Ruby Donnelly (soprano), Hannah Leggatt (soprano), Alicia Pettit (soprano), Mhairi Sharp (soprano), Melissa Jones (alto), David Lewis (alto), Margaret Renton (alto), Jennifer Taylor (alto), Matt Andrews (tenor), Christopher Cotter (tenor), Michael Scanlon (tenor), Daniel Walsh (tenor), Ed Birchinall (bass), Steven Kelly (bass), James Kennedy (bass), Pete Silver (bass).

The Reid Consort, founded in 2016 by Cole Bendall, has serious intent for dedicated musicians. No more so than his sixteen singers for an a cappella concert entitled Music for Remembrance. Held on the eve of Remembrance Day in the most appropriate St Vincent's Chapel, already carefully prepared for its Sunday Service of Remembrance by its Sacristan, Christopher Hartley, with poppies on and around the altar as the backdrop.
With four sopranos, four altos, four tenors and four bass singers behind him, Cole Bendall gave the audience erudite introduction to the works of the five composers they had chosen. They started with Henry Purcell's Remember not, Lord, our offences composed around 1680 when he was organist at Westminster Abbey. The music jumped forward in time to John Tavener's Funeral Ikos. Whereas the Purcell is found in the Book of Common Prayer, the Taverner came from the Greek Orthodox liturgy.
Scottish composer Joanna Gill, who studied at Aberdeen University with Paul Mealor, was the composer of Unfailing Love, a setting of the short in length Psalm 117. Eric Whitacre's Sleep followed - a secular work which can be read as a metaphor for seeking relief and consolation.
Described by Cole Bendall as the meat of the concert came six Songs of Farewell from Charles Parry who died in 1918. Indeed Parry had been the subject of a lecture also in St Vincent's the previous evening for the Edinburgh Society of Organists. The six songs were written in 1918 in Parry's final year and with great sadness and inner turmoil. Probably knowing he himself was to die shortly but also as a great Germanophile he hated the conflict between the two countries he loved. My Soul There is a Country was the first we heard, and probably the best known. The singing moved towards the final Lord, Let Me Know Mine End. Whether planned or not, outside could be heard the bangs of fireworks going off - as if we were in the midst of a battle. Exceedingly fitting and thought provoking.
Performance: Saturday 11th November 2018 at 7.30pm.