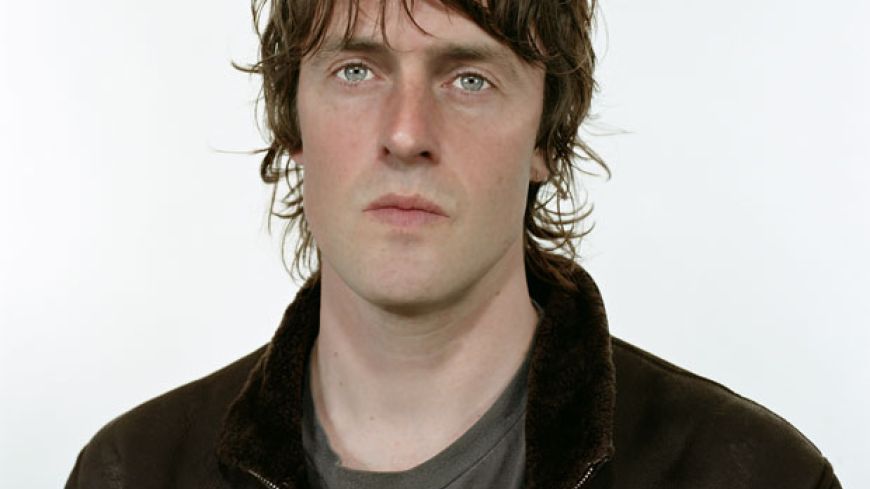 The stage is dominated by an all-white backdrop, in keeping with Spirtualized's traditionally functional aesthetic, with what appear to be 60watt light bulbs hanging down from above, as though ready and prepared to flash with inspiration and volts of electricity.
Tonight is clearly a night for the devoted, as the cries of "Come on, the Spaceman!" prove as the various band members, backing singers and finally J Spaceman himself wander on and unobtrusively take up instruments. Spaceman, AKA Jason Pierce, cuts an unprepossessing figure, clad in t-shirt and shabby trousers with tinted wraparound shades clamped onto his face. Well into middle age, he still resembles the perennial stoner student figure.
This short UK jaunt was originally arranged around what was supposed to be the release of a new Spiritualized album, their first in three years. With a release date now put back until spring 2012, Pierce has clearly decided to road-test the new material. Kicking off with "Hey Jane", a Syd Barrett-era Pink Floyd pastiche, it isn't long before the band disintegrates into one of their trademark cacophonic squalls.
There is little distinction between the new material and any of Spiritualized's back catalogue. "Get What You Deserve" descends into the call and response routine from their similar old classic "I Think I'm In Love". The usual lyrical tropes are also in place; endless repetitions of striving for salvation through love, or drugs, or Jesus. It's all new but has all been heard before.
Bridget Riley style optic visuals blast from the screens while Pierce himself is virtually physically absent, seated beside a speaker stack so that for the duration of this two hours plus gig, all half of the Queen's Hall audience see of him is a hand clenched around a guitar frame, if that. It leaves me unmoved, and the audience, while lapping it up, clearly feel wearied by the onslaught of unfamiliar, but oddly similar, songs.
An encore of classics make up for it somewhat. The pleading of "Shine A Light" and repetitive loops of "Sway" are clear firm favourites. For myself, the only time tonight really comes alive is when Pierce goes way back to his first band, Spacemen 3, with a mighty, electrifyingly furious and sulphurous blast through "Take Me To The Other Side". It's a welcome jolt of life to the system, before the final gospel exhortation of "Oh Happy Day". By now, hands are in the air and the audience are true believing acolytes, devotees of The Spaceman. I feel like a malingerer in the temple, unconverted and unmoved.