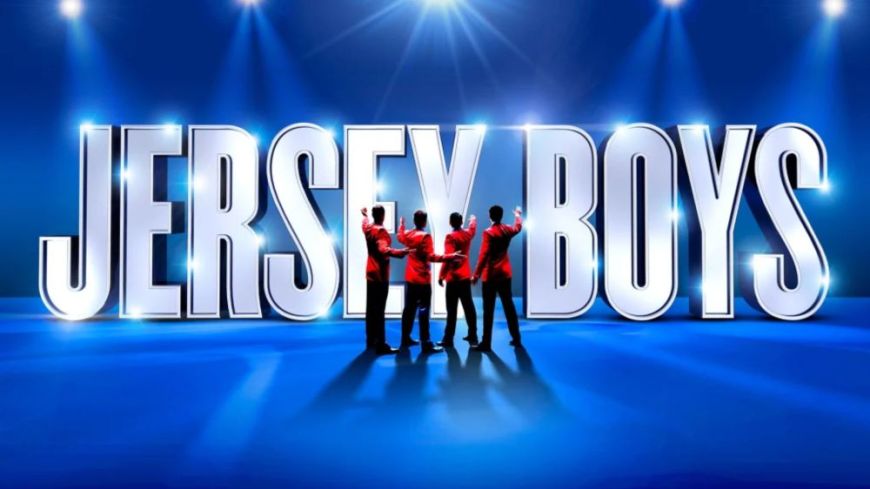 Production
Des McAnuff (Director), Sergio Trujillo (Choreographer), Ron Melrose (Musical Supervision, Vocal Arrangements), Klara Zieglerova (Scenic Design), Jess Goldstein (Costume Design), Howell Binkley (Lighting Design), Steven Canyon Kennedy (Sound Design), Steve Orich (Orchestrations), Michael Clark (Project Design)
Performers
Ryan Heenan (Frankie Valli), Blair Gibson (Bob Gaudio), Christopher Short (Nick Massi), Dalton Wood (Tommy DeVito), Emma Crossley (Mary Delgado/Others), Jordan James (Gyp DeCarlo/Others), Matthew Lawrence (Norm Waxman/Others), Michael Levi (Bob Crewe/Others), Olly Manley (Swing), Victoria McCabe (Francine/Others), Dan O'Brien (Hank Majewski/Others), Tom O'Brien (Swing), Nathan Routledge (Swing), George Salmon (Joey Pesci/Others), Ellie Seaton (Lorraine/Others), Kirsty Whelan (Swing), Damien Winchester (Barry/Others)
You don't have to be a fan of Frankie Valli and The Four Seasons to enjoy this slick jukebox musical of smash hit songs, but you'll no doubt leave a fan as this stellar cast share the group's story with infectious joy and energy. 
Rather than a shoehorned storyline to fit around an artist's back catalogue, testimonials from the band provide an autobiographical script with the quartet all given a season (get it) to share their viewpoint, from the early days in 1950s blue collar New Jersey to induction into the Rock n Roll Hall of Fame in 1990, traversing petty crime, the ups and downs of fame, debt, fractured relationships, neglected families and ego, all soundtracked by the songs as Bob Gaudio and Bob Crewe wrote them.
And what a selection of songs! With over 30 showcased it's catchy hit after hit. To name a few there's 'Sherry', 'Big Girls Don't Cry', 'Walk Like a Man', 'Beggin', 'Bye Bye Baby' and 'Can't Take My Eyes Off You' and there'll no doubt be an "I didn't know that was them" as the back catalogue impresses. The music is cleverly utilised to both advance the plot with truncated snippets amidst full blown numbers that beautifully capture the dissonance between the stunning, tender harmonies and the cold shell of tough guys in suits as smash success clashes with personal plights. 
Directed by Des McAnuff, the fast-paced natural delivery allows us to sit back and enjoy the developments, injected with Sergio Trujillo's skilful and fun choreography set against Klara Zieglerova's effective scaffolding, allowing busy movement around the stage without detracting from the action. Although the touring production has a relatively small cast they fill the stage, and the costume and scene changes are skillfully handled with smooth, slick transitions allowing the ensemble to effortlessly embellish the core quartet narrative (and look out for Damien Winchester who makes an impact with all his creations). 
As for the central quartet, everyone will have their favourite by the end, relating to different aspects as the characters unfold, and all four excel in their roles with combined chemistry and faultless vocal talents. Dalton Wood's Tommy DeVito is suitably cocksure as the older-brother bad influence who starts everything in motion with charm despite his faults and an undertone of threat. Blair Gibson's Bob Guido is a self-assured geek who fizzes with energy narrating the creations of his chart toppers while Christopher Short's quietly confident Nick Massi endears all and melts many with those magic bass tones. Then there's of course Frankie Valli whose unmistakable three octave nasal falsetto has to be nailed, with Ryan Heenan rising to that challenge brilliantly. His vocals are spectacular as well as his betrayal from wide-eyed innocent youngster to leading man succeeding onstage when offstage is a shambles. 
The packed out audience were transfixed from beginning to end, with a fantastic mix of generations highlighting that if you have a great story and earworm songs you're onto a winner, then when it's enhanced by a cast who are loving what they do, the standing ovation is earned and a testament to pretty much guarantee that you won't be disappointed if you go along. Enjoy Jersey Style. 
Jersey Boys is at Edinburgh Playhouse until Saturday 4 February. 
© Lindsay Corr, January 2023