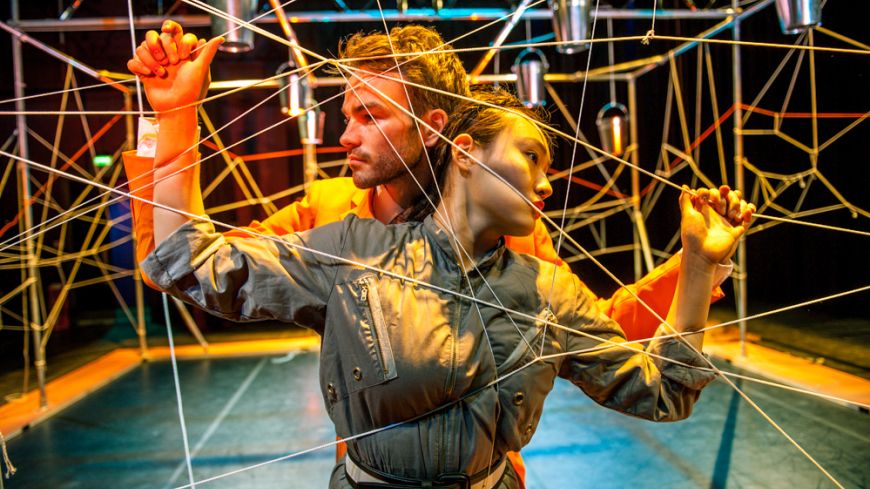 Company
Barrowland Ballet
Production
Natasha Gilmore (Choreographer / Director), Robert Alan Evans (Co-Director) Natasha Gilmore and Robert Alan Evans (Co- Creators), Kim Moore (Composer / Musician), Fred Pommerehn (Set and Lighting Designer), Christine Dove (Costume Designer), Brian Hartley (photographer)
Performers
Jade Adamson, Kai Wen Chuang, Vince Virr
Barrowland Ballet shows bright Bengali claws in this brilliant dance piece.
The two shows, one of which is pitched at children and the second at adults, are an exposé of a family's life and the consequences of the arrival in it of a tiger. The child's version is only different in as much as any overt sexuality is missing. That said, the dance is sensual and intimate throughout with layered references aimed at older audience members even in the child's version. Otherwise the tale of the effects of a catalyst on people's lives, whether it be a big cat or anything else, is the same.
The family dynamics of Mum, Dad and their single child are played out within a metal cage with random bars of silken strings. Wild skins skirt the cage hinting at an animal world beyond. Metal buckets are suspended on strings from above and orange lighting wafts clues of the family's true hidden colours.
Mum (Kai Wen Chuang) is an obsessive housewife, cleaning and spraying everything in sight. Dad (Vince Virr) is a serious, dutiful and conventional husband. Their child (Jade Adamson) is clearly desperate for escape and excitement in spite of being the focus of her parents love. Orange socks and orange buttons on her clothes against the otherwise utilitarian grey are early hints of this. They are part of the slow morph of change before the explosive effect of a tiger.
Family unity is shown as the three dance as one albeit with stoical, joyless expressions. Each conforms to their roles yet there is ill ease in these separate parts of a union that show the fragility of any relationship, even those that appears to be the strongest. When the tiger appears outside the cage, like a feline Peter Pan dressed in a bright orange suit, the effect is like the throwing of a grenade.
Vince Virr is casually louche in his portrayal of the Tiger. His bright suggestion of darkness gives his performance a seductive, disruptive and dangerous lure verging on the diabolical as his presence unleashes chaos. Whether the Tiger is the other side of an otherwise conventional Dad or whether it is an alien, the catalyst of this big cat transforms the family. When he returns as Dad, he finds his family renewed. The unit re-forms, continuing to give mutual support with the parents willingly sacrificing themselves for their child's easy path, shown by the parents rolling along and the child walking over them as human stepping stones. However, they have discovered (or re-discovered)joy and colour.
Natasha Gilmore's choreography is beautifully realised in the group's movements that are perfectly synced with the sound and gorgeous live music from Kim Moore. They create at times a wild tumbling circus full of intense physicality and at others dance with militaristic grace and acrobatic elegance. Their moving through a series of swinging buckets is playful yet carried out with pin sharp skill from the small tight ensemble. There are moments of real magic throughout this mesmerising show with orange string and balls appearing from nowhere and the clever manipulation of the buckets' pulleys is impressive.
Tiger and Tiger Tale is a magical dramatization and a modern metaphor for the dual nature of human beings. Go wild and catch it somewhere!
Each show lasts 1 hour.
Fri 20 Sept at 10:00am (Tiger Tale age recommend 6+) & 7:30pm (Tiger age recommend 14+)
Tour continues