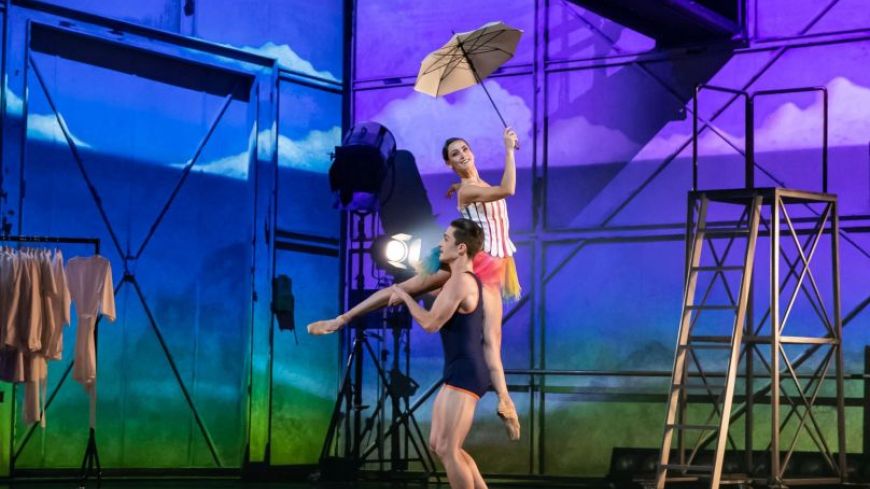 Production
Gene Kelly (original choreography and direction for Pas de Dieux), Christopher Hampson (additional choreography and scenario), Patricia Ward Kelly (Artistic Collaborator), Lez Brotherston (design and additional scenario), Lawrie McLennan (lighting). George Gershwin and Frederic Chopin (music).
Performers
Sophie Martin (Star Ballerina /Aphrodite), Evan Loudon (Choreographer/Zeus), Bruno Micchiardi (Pianist/Eros), Claire Souet (Sweetheart / Girl with Pony Tail), Javier Andreu (Sweetheart/Lifeguard), Nicholas Shoesmith (Stagehand). The Scottish Ballet ensemble.
The musical score is recorded by the Scottish Ballet Orchestra with Jean-Claude Picard (conductor)


The legendary actor, dancer and pioneering choreographer for the movies, Gene Kelly was the first American to create his own work for the Palais Garnier, Paris. His love letter to ballet, "Pas de Dieux" (1960) was critically acclaimed for its daring, modern style and Broadway jazzy beat.
"It rocked the house, there were 22 curtain calls. It's a fun frolic, it's sexy, it's alive." Patricia Ward Kelly
Sixty years later, in collaboration with Patricia Ward Kelly, Gene's widow, (who gave privileged access to the original choreography-annotated Gershwin score and costume designs), Scottish Ballet now presents the UK premiere of the ballet, re-imagined and refreshed as 'Starstruck.'  
Artistic Director, Christopher Hampson has added a wonderful, witty prologue to echo the real backstage story of Gene Kelly and his muse, l'etoile of the Paris Ballet, Claude Bessy. The spacious studio with piano, barre and wall of mirrors sets the scene as the choreographer arrives for the rehearsal, where the pianist, in panama hat and blue shirt, takes a flying jeté leap across the floor in high spirited, Hollywood musical style.  
Set to Chopin's melodic score for Les Sylphides, the dancers are put through their paces, a few dressed in casual leisure wear, shorts and striped Breton T shirts with 1950s vintage vibe. Then the Star Ballerina makes a stunning entrance (Chanel jacket, LV suitcase) and Gene Kelly's mythological, fantasy tale of romance, revenge, rivalry and mischief-making is set to begin.
Above the swirling mist of clouds on Mount Olympus, Aphrodite is spying on Earth below with a large telescope, captivated by the leisurely, luxury life on the South of France.  Abandoning her husband Zeus, she and the winged Eros fly off (quite literally) to the Cote d'Azur for fun and games on the beach. Parading in a rainbow-feathered bathing costume and parasol, the Goddess of Love quickly seduces the very fit Lifeguard with the help of Cupid's arrow.
Gershwin's Concerto in F flows along from slow, soulful melodies to jaunty, jazzy rhythm, perfectly synchronising both intimate pas de deux and sassy, side-stepping Suzy Q ensembles such as Holly Golightly lookalikes in LBD, sunglasses and Dior hats.  With acrobatic skill, Sophie Martin and Euan Loudon dance the tango on top of a table and bentwood chair in a bar with exquisite, sensual grace, reminiscent of the sizzling sequence by Kelly and Charisse in "Singing in the Rain." Simply breathtaking.
The imaginative team behind direction and design bring vitality and vision to the dramatic narrative through the character roles, evocative period costumes and filmic setting through a rolling panoramic, painterly backdrop. With nostalgic photographic snapshots, this is a personal and poignant homage to Gene Kelly to capture his memorable experience as An American in Paris.
As a magical revival, 'Starstruck' will surely also rock the house on Scottish Ballet's tour around Scotland: a dazzling, dynamic spectacle of a show which revs up to top gear for the fabulous finale performed with electrifying energy and glamorous, romantic theatricality.
Showtimes:
Theatre Royal, Glasgow: (23 – 25 September, 2021), Eden Court, Inverness (30 September-2 October), His Majesty's Theatre, Aberdeen (7-9 October) and Festival Theatre, Edinburgh (14-16 October).
Full information on tour dates and booking tickets:
https://www.scottishballet.co.uk/event/starstruck