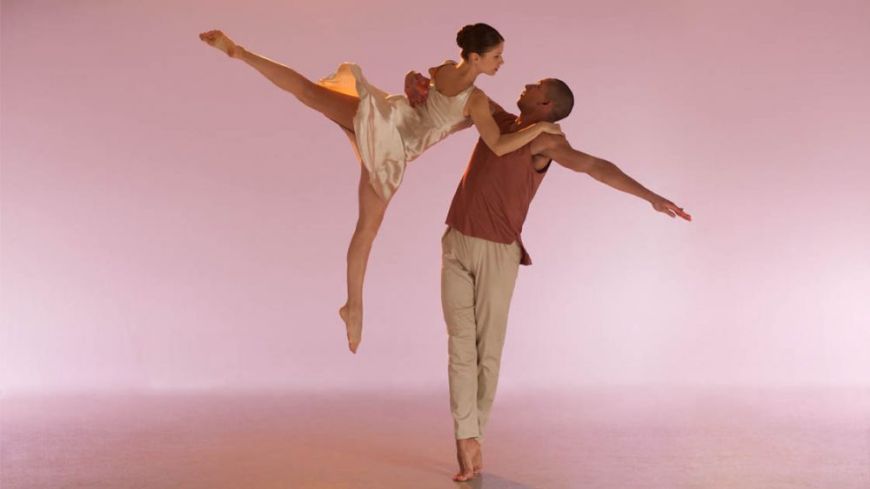 Company
Richard Alston Dance Company
Production
Richard Alston, Martin Lawrance, James Muller (choreography), Zeynep Kepekli, Martin Lawrance, (lighting), Fotini Dimou, Jeffrey Rogador, Inca Jaakson, Peter Todd (costumes),
Performers
Elly Braund, Nicholas Shikkis, Ellen Yilma, Joshua Harriette, Jennifer Hayes, Jason Tucker, Alejandra Gissler, Nahum McLean, Niall Egan, Ellen Yilma. (Richard Alston Dance Company)
The Inverurie Youth Dance group.
Jason Ridgway (pianist)
The Richard Alston Dance Company celebrates its 25th anniversary with this UK wide Autumn tour, featuring another a dazzling, diverse repertoire of choreographic creativity. The company has visited the Festival Theatre every year since 1999 and it is tragic news that this is their last tour. The programme is aptly entitled "Final Edition." 
Sir Richard introduces a Curtain Raiser, by a youth dance group from Inverurie which performed James Muller's "Evolution Dance" to Toccata by Prokofiev. The ensemble, in T shirts and black leggings, line up in neat diametric patterns, which then splinter into small formations and duets.  There is breathtaking energy in their athleticism, racing around the stage with rhythmic pace. A light-hearted amuse bouche before the main feast to follow.
To the piano accompaniment of Brahms Hungarian Dances, by Jason Ridgway, " Brahms Hungarian" by Richard Alston is an enchanting piece danced by four couples. The tempo shifts from graceful duets to a lively Gypsy folk dance, with arm waving and footwork reminiscent of the Highland Fling. Each note of the music matches each step such as in a scene with the girls in flowery frocks as if on a summer day, twirling the stage in a jaunty polka.
A double hander for two men next in "Mazur" set to a selection of Mazurkas by Chopin, played live by Jason Ridgway. Written while in exile in Paris, Chopin wanted to capture the the traditional, national, authentic folk repertory of his homeland, and reflect a lyrical journal of his life, music from his "heart's sanctuary".
The dancers, in smart grey trousers and waistcoats create a melancholic mood with slow, sedate precision. As Schumann wrote in a review, "Each of the mazurkas has an individual poetic feature, something distinctive in form or expression." Richard Alston has neatly translated the dark emotional tone of Chopin's music in this series of poignant dance miniatures.  
Next, the world premiere of "A Far Cry" by Martin Lawrance, performed by nine dancers to the Introduction and Allegro by Elgar.  We are drawn into a serene space enhanced by soft lighting casting a changing, painterly backdrop like a striped Rothko abstract.   The contrast of stylistic, contemporary, high flying dance moves, like moths fluttering around a flame, with the strident strings of the orchestral score is captivating.   
The final work is a world premiere by Alston, "Voices and Light Footsteps", to the music and madrigals by Monteverdi, the title of the piece taken from a quote by Henry James describing an evening in Venice.
The music shifts from moments of quiet serenity to the spiritual soaring vocals - reflecting the legend of Orpheus and Eurydice, the underlying theme is of love and loss. Silky slip dresses and loose trousers in cream, ochre, rich reds and gold are beautifully designed for free flowing movement. A vision of elegant, eloquent choreography harmoniously balanced with the soulful music - majestic and utterly magical.
The Richard Alston Dance Company will close in Spring 2020 due to a change of funding through the Arts Council of England.  It is therefore most timely and fitting that Capital Theatres has paid tribute to Sir Richard Alston by dedicating a seat to him at the Festival Theatre.
Chief Executive of Capital Theatres, Duncan Hendry, says: 'Richard Alston Dance Company has been a lynchpin of our dance programme. Their commitment to premiering new works here and building an audience for dance in Scotland has been a constant."
Sir Richard is sincerely grateful by this gesture: " I could not be more deeply honoured that my name is now to be in this wonderful auditorium.  I will remember every visit my company has made to this marvellous theatre with deep love and gratitude.'
Show times:
Edinburgh Festival Theatre, 27 – 28 September, 2019
Theatre Royal, Glasgow,  19 November, 2019
UK Tour from 1 October to 30 November, 2019