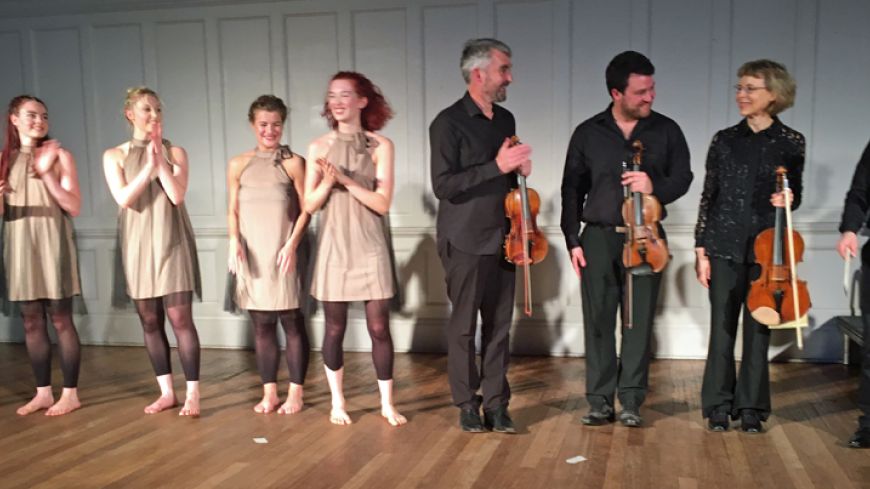 Company
Edinburgh Quartet and The National Youth Dance Company of Scotland
Production
Shostakovich, String Quartet No 8 in C minor; MacMillan, For Sonny; Grime, String Quartet; Harold, Silent Shores.

Performers
The Edinburgh Quartet: Tony Moffat (guest leader), Ian Watson (violin), Catherine Marwood (viola), Mark Bailey (cello). The National Youth Dance Company of Scotland: Katelyn Bedford, Antonia Giomi, Taylor Han, Rachel Laird, Corrie McKenzie, Marc Brew (choreography)
The Edinburgh Quartet were centre stage for a special work by Shostakovich. Special partly because String Quartet No 8 was written on a visit to write film music about Dresden which was all but ruined by bombing in the Second World War, but also because he wrote it as his epitaph in case nobody else thought of doing so. He was going through difficult times, was depressed and even suicidal. In its five joined movements it was extraordinarily moving.
With the Edinburgh Quartet players moved onto a small dais, five lithe young ladies from The National Youth Dance Company of Scotland danced in front of us, and up and around the musicians. We heard three short works by contemporary composers. Helen Grime's String Quartet was written for the Edinburgh Quartet in 2014 whilst Tom Harrold's Silent Shores was written for them in 2015. The dancers gave us a thrilling display of their agile ability keeping every movement in line with the music. They were happy and the Quartet was enjoying it. The audience loved every moment.
Performance: Saturday 10th June 2017 at 7.30pm.